By:  Weber Way to Wellness Reporter
CLERMONT, FLORIDA— Alicia's Fitness Challenge concluded in flying colors as the top three finishers received tie-dyed shirts, improved fitness in all 5 areas of physical fitness, and much more!!  Throughout Central Florida businesses and individuals alike could register for free and do Alicia's 12-week fitness challenge, while they were on a personal training program.
Alicia Weber is a fitness trainer of 12-years that is described as energetic, enthusiastic, and full of surprises! Alicia challenged fitness enthusiasts with a 12-week fitness challenge that consisted of 28 exercises worth 5 to 50 points and the exercises increased in difficulty every week as the point value increased.
Some believed the fitness challenge couldn't be that challenging and they signed up only to drop out during the first week.  Others thought they would never be able to complete the difficult exercises in the later weeks of the challenge.
One female retired Law Enforcement Officer stayed optimistic and said, "If I am training with Alicia Weber anything is possible.  I know Alicia well because I trained with her longer than any of the other participants and I keep working and improving fitness with Alicia. I want to stay in shape during retirement!"  The challenge requires a mental toughness and this retired Law Enforcement Officer proved she not only had mental toughness, but the physical fitness to win this challenge!
Twelve began the challenge and only 4 finished the challenge.  All of the men dropped out.  Men and women competed in the same exercises with the same point values.
Alicia describes her challenge by saying, "I don't expect people to get a perfect score.  They will get great successes and they will have to handle failures too.  Everything in this challenge is out of reach, but I will train them to put things in reach as they put out some effort.  They all train only 1 hour a week with me and then they are given some 'exercise homework' to complete.  This challenge will test their mental toughness and at the same time improve one in all 5 areas of physical fitness (cardio, muscular strength/endurance, flexibility, abdominal strength/endurance, and balance/coordination)."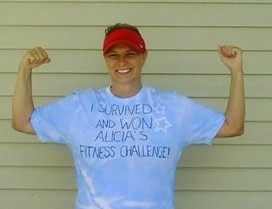 The retired Law Enforcement Officer pictured here won with an incredible 85% cumulative score and a perfect score in abdominal strength and endurance.  The total possible points one could earn is 685 points.  All the women performed 10 men's pushups in a row by the 5th week.   The women and men strived to perform 24 consecutive spiderman pushups to earn 50pts by the 12th week.  No one met that goal, but several women got partial credit for doing 4 spiderman pushups in a row.  The winner tackled the hardest exercises with class and blew away Alicia's standards on a few of them including the 3 Minute Ab Curl Up (she did 150 reps in 2 and half minutes and she only needed to do 105 reps to get 50 pts).  Since she was past the mark of 105 reps to earn her 50pts, she stopped at 150 reps and saved her energies to attack other exercises.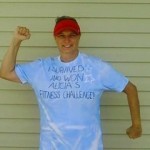 The winner comments on her fitness challenge win and the benefits she achieved by saying, "If I listened to Alicia, concentrated on what Alicia was teaching me, and followed her techniques, then the possibility to improve in 12-weeks was there.  When I put the effort out, the improvements came naturally.  I was surprised at what I did."
Alicia commends all those that completed her fitness challenge, which has been her toughest.  All four finishers received awards.  Additionally, the top 3 finishers received a special tie-dyed shirt and they won a free copy of Alicia's new book on physical fitness, which is now available as an ebook at AliciaWeber.com/fit!
Are you up for a challenge?  Alicia has summer fitness challenges called the "Lungfish Challenge," which last several weeks and combine water and land training.  If you wish to enroll, contact Alicia at Awinningway@gmail.com