By:  Alicia Weber
Click here to visit JD Productions.
Whenever I wasn't exercising as a kid, I would kick back with a book on world record setting athletes and I would get enraptured.  I knew very early on I would be a world record setting athlete.  My doctor grandfather met many of the great athletes I read about and he shared stories with me.  He was a gastroenterologist  that wrote for the American Medical Association and he also knew that I would be a world record holder one day.  He had me be strict with my eating and exercise as he prepared me for a life of discipline and dedication to my passion —sports.
I was inspired most to read about the athletes of the 1920's – 1960's that overcame so much to set records and achieve extraordinary athletic achievements. The athletes of those days had to overcome war times, family and personal strife, and the Great Depression.  Today, I am now a world record setting athlete in many record books including…
Believe the Unbelievable: the Ultimate Book of World Records and the People who Pursue Them
I hold over 25 world records in strength, speed, and endurance.  From February 6, 2010 – March 9, 2010, I set 11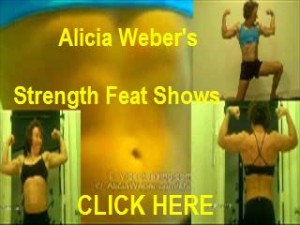 world records and 2 rare strength feats covering all 5 areas of physical fitness.
Muscular Strength and Endurance:  I started my world record rampage by re-setting my former 1 hour pullup world record by more than 150 reps for 721 reps an hour(enroute to re-setting my 30-minute WR) on February 6, 2010.  I then re-set my 1 minute, 3 minute, and 1 hr chin up world records.  In early March I became the 1st Woman to set an endurance 1-Arm Pushup World Record by completing 105 reps in 10-minutes. See here for Official Pullup/Chinup  and Pushup World Record Results.
One Arm Pushups


Alicia's One Arm Pushups

Traveling Trainer & Edutainer | MySpace Video
Cardiovascular Strength and Endurance:  During high school an easy day would be jump rope  running around the track 25 times for 10,000 meters. I would use a light weight speed jump rope.  The jump rope endurance training prepared me to set records and compete on the National level during high school in events from 800m -10,000m runs with U.S.A Track and Field.  I started in 7th grade and my best event was the 400m( I qualified for the 1996  Junior Olympic National Championship in that event) but didn't compete as I focused on my distance running and became a National Champion in distance running.  Today, I started with the 400m jump rope track run and set a world record using a weighted 1.5lbs jump rope on February 21, 2010.  I then set 2 more jump rope world records with the weighted 1.5lbs jump rope in single-foot rope skipping for 30-seconds and 3-minutes.  Visit Alicia's myspace to watch jump rope videos.
Flexibility and Abdominal Strength and Endurance:
On February 17, 2010, I completed 17 consecutive reps of Ring Dips in 1-minute to set a world record.  The ring dips were done in a difficult way to add the elements of both flexibility and abdominal strength and endurance in with the exercise. I kept my legs in L-Feat position with my legs perpendicular to my torso. *The hardest type of ring dips are where the legs are held straight out and parallel to the ground – those are officially called "Ring L Dips".
Double Screen Showing of 17 Ring Dips

Traveling Trainer & Edutainer | MySpace Video
Note:  I also set an abdominal endurance world record on September 26, 2009 where I did 613 situps (legs held down, hands behind ears, elbows must touch lateral knee each time for rep to count) in 30-minutes.
 Balance and Stability:
From March 6 – 9, 2010, I did a variety of strength/balance pushups for records on 2 and 3 med balls measuring 22 cm diameter.  I did 35 reps of pushups while balancing on 3 med balls for an official world record.  I then did 2 other types of balance/strength pushups that  observers described as "rare and difficult". These 2 other pushups were completed on 2 and 3 med balls with an elevated leg.  Due to the specialization and rare nature of these 2 types of pushups, they were not officially published in the current record books.  However, they may be entered in a future record book.  Med ball balance exercises are very common to Olympic Kayakers.  As a K-1 sprint kayaker, I need to constantly challenge my balance in order to become a better and stronger kayaker, since the sport at the highest level is about being able to balance on such a skinny, tippy boat.  Here are highlights of the 2 types of rare and difficult medicine ball pushups. 


2 Rare and Difficult Strength/Balance Feats

Traveling Trainer & Edutainer | MySpace Video
My current records are 6 reps for a minute of 1 elevated leg 2 med ball pushups (22 cm diameter) and 25 reps for 1 minute of 1 elevated leg 3 med ball pushups.  My World Records are also listed online with World Record Holder's Republic and the Book of Alternative Records.  I continue to chase new world records and re-set my own.
Outside of world record setting, I compete in 10-sports as an elite athlete and I am a fitness trainer. Some of my sports include sprint kayak, triathlon, trail and mountain distance running, track and field, rowing, road racing, time trial bike racing, open water swimming, and stand up paddle boarding.  I have published a book on physical fitness and it is available online here.
*Learn more,  find Alicia on Facebook at www.Facebook.com/Awinningway
*I am also an entertainer and I do "character comedy".  You can get a glimpse of my strength feats & comedy on youtube at 'AliciaAndClan'