By:  Weber Way to Wellness Reporter Click here to visit JD Productions.
November 2, 2010–Alicia Weber's tricep muscles were excited and drooling over a final challenge!  She decided to test herself at the toughest type of 2-arm and 2-leg pushups for endurance – 30 -minutes of Tricep Pushups.  She already holds world records in a variety of regular 2-arm pushups and one-arm pushups categories.  However, tricep pushups are not a record cateogry, and she is just doing these tricep pushups for fun in the vieo below!  In 2010, Alicia ends her year with a record 24 world records in strength, speed, and endurance verified by the Book of Alternative Records and featured in World Record Holder's Republic the registry for Human Achievement World Record Holders.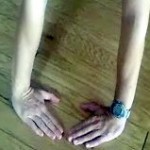 The tricep pushups for endurance isolate the 3 tricep muscles (medial head, lateral head, and long head of the tricep m.).  Maxing out and going for 30-minutes is VERY challenging on the triceps AND the ABS as they stabilize the core and keep a straight body position.  Rules:  Tricep Pushups must be performed on a hard surface, arms start in full extension, and end bent with chest touching floor as hands are held in a triangle position (as shown here).  Legs stay straight with no lifting of the hips.  Rest breaks are allowed.
Watch Alicia "World Record" Weber do 556 tricep pushups in 30-minutes.  Enjoy!