"Very compatible, yet very different"
By:  Weber Way to Wellness Reporter
**The images contained in this article exclusively found at AliciaWeber.com are copyrighted © Alicia Weber & Kim Weber. Click here to visit JD Productions.
The Weber Way to Wellness Reporter interviews the Weber Sisters – two sisters 2 years apart that are both fitness gurus.  Kim Weber is a fitness executive for high-end fitness studios with an Exercise Science B.S. and a Global MBA   Alicia Weber is a Fitness Expert and Fitness/Nutrition/Solutions Consultant with Biology and Communication degrees.

1.        Q.  How long have you both been in the fitness industry and why do you love working out?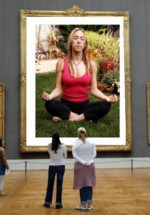 Alicia answers, "We both started as a lifeguard.  When I took my first lifeguard job at 17, people began asking me for swimming and exercise tips.  I was a self-coached world-class triathlete and National Champion runner.  People would look at me and want my help and it stemmed from there and I branched out into fitness training and a variety of facets in health and wellness.  Constantly expanding my physical fitness is extremely exciting for me!!"
Kim answers, "I've been in the fitness industry for over ten years.  After being a lifeguard as a teenager, I went on to become a group fitness instructor.  I taught all kinds of classes and got into personal training as well.  After years of training experience, I moved over to the management side where I started managing a Pilate's studio in Las Vegas, NV.  I fell in love with fitness management and went on to get my MBA to continue with these aspirations.  I love working out because it makes people, especially women, feel good about themselves.  Our self esteem is largely based on how we look and feel.  When we get results we feel energized and accomplished.  This feeling fuels people to change their life and change their world."
2.        Q.  Exercise was always part of your lives.  What are your favorite types of workouts?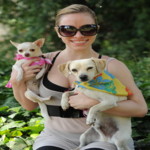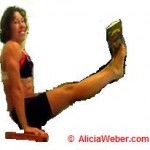 Alicia answers, "I love anything that is very challenging (both muscularly and aerobically) in the area of strength, speed, and endurance.  In 2010, I set a record 24 world records in this area of fitness."
 Kim answers, "I love dance based orthopedic exercises like Pilates and Yoga.  I also love to run and hike outdoors, especially with my dogs."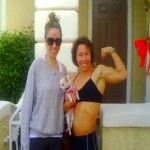 3.  Q.  What is your most memorable moment together in exercise?
Alicia answers, "We were on a family trip in the Badlands and as soon as we arrived in the evening, I jumped out of the car and took off running.  Thank goodness my sister followed after me because she saved my life!!  I accidently began to take off on a 200+ ft high cliff and she grabbed my legs and pulled me back before I fell. I then learned why they are called the Badlands!  My energy levels were out of control (too many endorphins from distance running) as a teenager, but I am under control now."

Kim answers, "For me it's probably when we were both on the high school swim team.  I didn't enjoy it, especially the thought of jumping into a cold pool at 6 am in the dark, freezing Pennsylvania winter weather.  Alicia loved it though.  She used to
give me her flippers when we had to swim laps to help me be less miserable!  At that point I knew I must be more of a land animal!"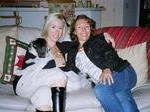 Continue with Part 2 revealing Tips for Exercise here….