By:  Weber Way to Wellness Reporter Click here to visit JD Productions.
CLERMONT, Florida—On the 8th day of the new year 2011, we ask fitness expert, Alicia Weber, how she feels as she looks back at her record 24 world records in strength, speed, & endurance she set in 2010. 
Alicia replies, "I feel that I accomplished my goals for that year.  My adrenaline pumps and I prepare the best I can and I exceeded every goal.  I am a possibility thinker with an insatiable desire to strive for difficult tasks.  They were all very challenging and required a great amount of possibility thinking and focus in addition to physical fitness."
What do you look forward to in 2011?  Alicia says, "I never totally know what to expect and goals change, but I always think BIG enough for God to fit into all my goals!  This will be a year that my success has significance for those in Lake County, Fl – I have some very exciting "fitness makeovers" and "fun fitness challenges" I will be hosting with awesome prizes.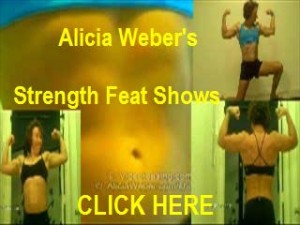 Here is a Review of Alicia's 24 World Records set in 2010.
(Scroll to bottom for her 10 Sports  Video where you can watch her set a World Record!! )
Feb 6-March 9, 2010-Alicia Weber started her 33 day "5 Areas of Physical Fitness Challenge" with a 30 minute pull up world record enroute to a new mind-blowing 1 hour pull up record where she blew away her old record by 161 reps for 721 reps.  The one hour event is very grueling because you need to find a pace and keep it the whole hour.  She kept a pace of 12 reps a minute.  Then, 21 days later she did another mind blowing endurance feat with 680 chin ups in an hour (145 reps over her former record)!  These 1 hour events are taxing on the muscles, but she is so well trained that in between these two endurance feats, she wasn't recovering, but setting more records (one every 2 and ½ days)!  In between these feats, she set 6 world records ( 2 shorter duration chin up WRs, 2 single-leg speed jump rope WRs, a jump rope running WR, and a Ring Dip (L-feat) 1 minute WR)!!  Then, March 1-9, Alicia set 4 more world records in pushups as she increased the level of difficulty by adding medicine balls to pushups.
Alicia states, "This was the most grueling of my 2010 records because of the focus required for these records for the 33 day duration.  Near the end, I made the challenge harder when I started getting mentally fatigued by pushing myself in 3 types of medicine ball pushup world records, which is equally a mental challenge as it is a physical challenge.  It was a thrill of victory when I captured 11 world records and 2 rare strength feats in 33 days and set world records in all 5 areas of physical fitness!"
May 27, 2010-Alicia Weber focused solely on maximum strength world records within a 45-minute time frame and took the challenge of setting 6 world records in 45-minutes to try & tie the # Legendary Jesse Owens did in Track and Field with Maximum Speed and Long Jump World Records set May 25, 1935.  However, Alicia missed on one, which she later captured during "Weber World Record Week."  All in All, Alicia set an incredible 5 world records within 45 minutes in 5 strength events on May 27, 2010 in this order (1.  37 pull ups in 1 minute, 2.  35 pull ups in a row, 3.  30 chin ups in a row, 4.  11 handstand pushups in 1 minute, & 5.  18 ring dips in 1 minute).  Click here to purchase this 45 Minute World Record on digital download.
Alicia shows strength feats with pullups and her back muscles.
httpv://www.youtube.com/watch?v=Bk6kL1-ab_c
June 11, 2010-Alicia Weber was feeling ABSolutely FABulous and felt it was time to blow away her current 30-minute sit-up world record.  She did just that in flying colors as she blew away her previous mark by nearly 200 reps!!  Her current world record is now 795 reps in 30-minutes (a sit-up every 2.26 seconds)!  Click here to learn correct sit-up form.
Sept 11-17, 2010-Alicia Weber set 5 world records during "Weber World Record Week".  First, she combined running, coordination, and strength together as she went jump rope running around the track using a 1.5 lbs jump rope.  Alicia, a former National Champ Track runner states, "Jump Rope running is night and day to regular running.  It is WAY more difficult and strenuous and if there is any wind – forget it!  I picked to set these jump rope running records in September, since there is little to no wind."  Next she finally captured the world record for the world's most difficult type of dip – Ring L position dips.  Finally, she tested herself in endurance and captured the 3-minute Deep Squat World Record following then with re-setting her 10-minute one arm pushup world record.
Alicia Weber is featured on the World Record Holder's Registry.  Alicia Weber is also in the world record book, "Believe the Unbelievable."  Quite contrary to 2009, Alicia spent all 2010 setting world records and only competed in 1 sport.  In 2009, Alicia set only 8 world records, but she competed in 10 sports!
Alicia Weber's 10 Sport Athlete Tour and More!!