By:  Weber Way to Wellness Reporter Click here to visit JD Productions.
CLERMONT, FL – On January 30, 2011, Alicia Weber sets her first world record of 2011.  Alicia set her 30-minute pull up world record for the 4th time and it was done in rare form!  Alicia says she needed an extra challenge, so she did squats and pullups in the SAME 30 minutes.  The Results:  Alicia performed 419 pullups and 61 squats in the SAME 30 minutes (breaking her former stand alone pullup world record by 21 reps).  Alicia's squats were performed with arms held straight out and legs coming to 90′ or breaking 90′ on all reps.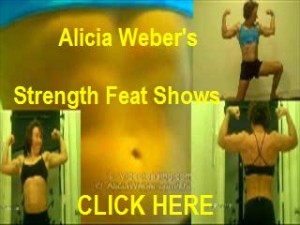 Alicia calls this her most strategically challenging world record (out of the now 44 world records she set).  What was it like setting this world record?
Alicia says, "It was not only muscularly challenging as I had to do a minimum of 14 pullups per minute to break my former record (and no less than 10 reps/minute with the squats), but it was also aerobically challenging with the 61 squats.  I had a steady heart rate of 170 – 180 beats per minute.  Without squats, it could drop to 130 beats per minute.   I was really huffing and puffing as you can see in the video below.  There are 3 camera views required chin view, front full body view, and side full body view.  I had to stay mentally alert with perfect form as I went from squats to pullups also."
Half-Way Point for 30 minutes of Pullups with Squats in the SAME 30 minutes
httpv://www.youtube.com/watch?v=4hwRRfxqcuE
Then a week later – MORE WORLD RECORDS…On February 8, 2011, Alicia pushed out her 2nd world record of 2011 in the 30-minutes of Pushups where she did 829 reps.
var _gaq = _gaq || []; _gaq.push(['_setAccount', 'UA-30201144-1']); _gaq.push(['_trackPageview']);
(function() { var ga = document.createElement('script'); ga.type = 'text/javascript'; ga.async = true; ga.src = ('https:' == document.location.protocol ? 'https://ssl' : 'http://www') + '.google-analytics.com/ga.js'; var s = document.getElementsByTagName('script')[0]; s.parentNode.insertBefore(ga, s); })();