By Weber Way To Wellness Reporter Photos copyrighted to © Alicia Weber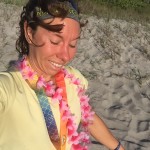 Alicia Weber keeps adding more to the record books as she cemented herself as the most decorated beach runner after becoming the second place female (16th overall out of 1,000 competitors) in the May 1, 2016, USA 10K Beach Running Championships in Cocoa Beach, Florida.
Over the the course of five years (competing 5 times), Weber set the 10k course record twice (and won the championship in 2011, 2012, 2015, took third in 2013, and now second in 2016). The Championship draws runners all over the state of Florida, other US states, and countries including Europe and Brazil.
2016 brought the most competitors and most challenging conditions. Beach Running was also a female dominated sport where 80 percent of the competitors were women. The race started in 15 knot ESE winds where runners battled their way to the turn-around-point. It was also high tide, so the sand was softer and humidity was 72 percent with sun blazing in the 80s. Weber dominated the race as she came thru the first mile in 6:42 and led the first 5,200 meters. Then, she was overtaken by former Division 1 Belmont Bruin Hall of Fame and Stand Out distance runner, Keely Corlew. Weber held her second position for the remaining miles and finished as the second place overall woman. First-Time beach runner, Corlew, won the 2016 championship.
"This was great competition and another awesome race," exclaimed Weber.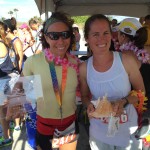 Weber's "Barrier Breaker" theme for her youth running camps is about inspiring youth through brain training and increasing speed and endurance thru running with fun and games. Weber is a highly regarded motivational speaker where she guided youth to dream big and set goals and go after them at previous USA Triathlon camps where she had record attendance (68 kids). She then elevated the collegiate scene at UF track and triathlon programs (where in 2002 she helped motivate the UF women's Indoor Track Team to a third in the Nation at NCAA AND 1st in SEC thru pre-meet talks. She served as an entertainer at Triathlon National Championships in 2002, 2005, and 2006).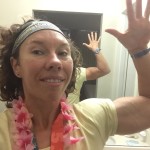 Weber is enthused to bring her "barrier breaker training techniques" in combination with fun and games to achieve faster times and then let runners test themselves in a free race she will also offer. Contact Alicia to enroll in her Barrier Breaker Running Camp today at Awinningway@gmail.com
END OF REPORT