By Weber Way to Wellness Reporter Photos © AliciaWeber.com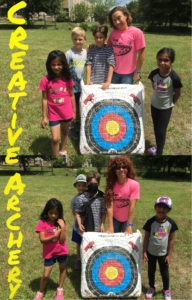 Most new archers look forward to their first bullseye as their mark of success and excitement in archery, but Alicia Weber's Creative Archery Summer Camp goes above and beyond shooting for Bullseyes. Young campers did not know what to expect other than they would be doing archery. Some waited months for this camp to take place. One thing was certain, Alicia Weber's Creative Archery was out-of-this-world with jammed-packed activities geared to getting young students to master skills quickly and successfully.
Student-Athletes in Alicia's archery programs become great athletes and excellent students. They develop mental and physical skills and focus needed to achieve any goal they set their minds on achieving. In spring 2016, all the archer-athletes who won the spring championship were also on the Honor Roll. Excelling in athletics and academics are equally important and the Creative Archery Summer Camp allows students to gear up academically with the math, English, writing, reading, public speaking, health, art, and performing arts experiences all tossed into archery in this one week camp. This camp is a great refresher for students about to head back to school after their long summer break or holiday break.
Highlights from the 2016 Creative Archery Summer Camp are below. Contact Alicia for upcoming sport and academic camps at Awinningway@gmail.com
Day 1 Highlights in Creative Archery Summer Camp
Day 2 Highlights in Creative Archery Summer Camp
Day 3 Highlights in Creative Archery Summer Camp
Day 4 Highlights in Creative Archery Summer Camp
Day 5 Highlights in Creative Archery Summer Camp
END OF REPORT