By Weber Way to Wellness Reporter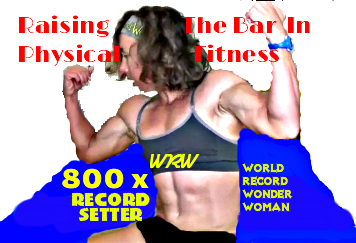 Alicia Weber has been raising the bar in physical fitness for over 20 years as she sets record after record, wins at sports, and develops a champion's mindset in youths, young adults, and senior citizens alike in a variety of athletic endeavors. Each Year Weber takes her game to a new level.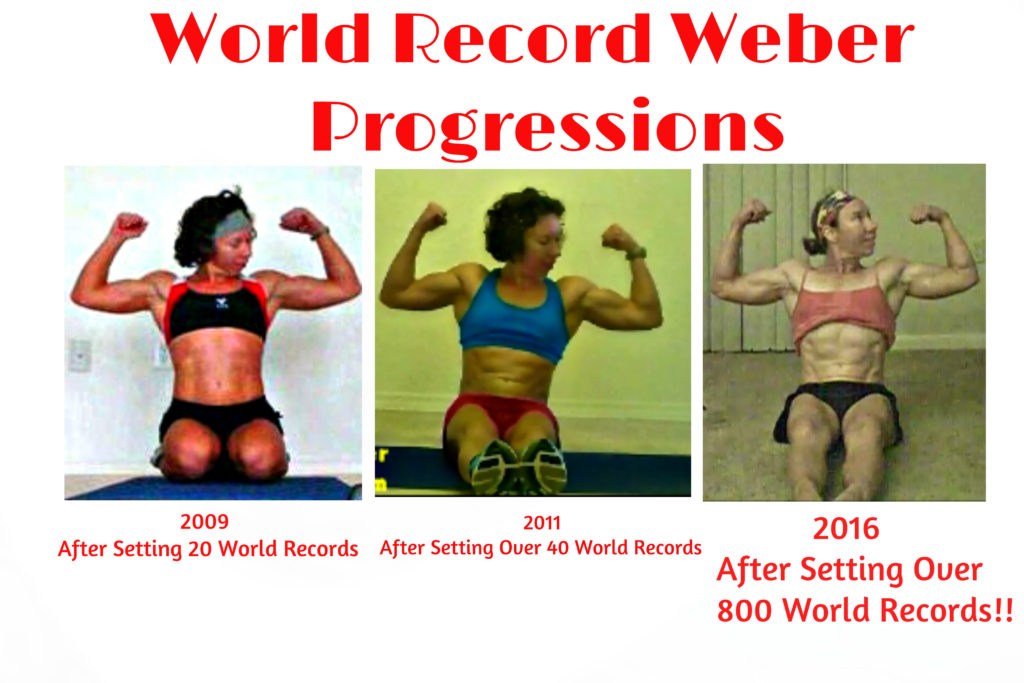 One of her biggest fans has dubbed her feats of strength "Super Endurance Feats." Alicia Weber smashed records in an unbelievable fashion this year with both mental and physical toughness. Below are some of her her select Official Recordsetter World Records that fans call "Super Endurance Feats" of 2016.
TOP 6 SELECT SUPER ENDURANCE FEATS OF 2016
SHOWN ABOVE #1 This is probably the most talked about Super Endurance Feat of 2016: The Most Non-Stop Combinations of Leg Lifts and Straight Leg Holds (2,030 leg lifts and 34 minutes of straight leg holds)
SHOWN BELOW #2 After setting and re-setting the 1 hour of pull-up world record over the past 8 years, Weber performed the most pull-ups ever in one hour (out of men and women) with 1,070 strict pull-ups in one hour.
SHOWN BELOW #3 Longest Swiss Ball Cadence Test (31 minutes)
SHOWN BELOW #4 Fastest Time to Complete 300 Thick Bar Pull-ups and run a one mile cross country run (30:46.7) The heat made this record tough…it was 100 degrees out and tough to hold onto the pull-up bar after awhile as skin came off the fingers from the heat.
SHOWN BELOW #5 She smashed the former record by 145 reps!!! The Most 90 Degree Flexed Hang Knee to Elbow Raises in 30 mionutes (620 reps)
SHOWN BELOW #6 This might be more challenging than the above ab exercise even though it is just 15 minutes. This video has the most views out of all six videos. It gives a major burn!!! The Most Consecutive Decline Locked Finger Pushups in 15 Minutes (205 pushups)
See All Alicia Weber's Official Recordsetter World Records Here.
Contact Alicia for Fitness Training at Awinningway@gmail.com
END OF REPORT