By Weber Way To Wellness Reporter
CENTRAL FLORIDA, June 10, 2017—Only 3 out of hundreds were selected to be on the 2017 Elite Team in barebow category archery where they train and compete in the the Elite 900 Round Invitational on June 10, 2017. The three selected were chosen for their dedication, determination, and discipline in training both mentally and physically in barebow category archery. They also had to have all won championships. Indaya, Aisha, and Siri of Alicia Weber's Archery, Fitness, and Sports League performed above and beyond what was expected for their first ever 900 Round! They trained 6-weeks to prepare for the long, grueling event in the Florida heat.
Their event took 3.5 hours in mid-morning where they saw the sun, clouds, and some rain, but they remained on fire the whole time! They kept progressing through the rounds with more and more points and finally they all set age group league records with scores that would give veteran archers a run for their money.
Elite Team Competes and Sets Records in 900 Round
The Elite Archers competed in the Youth Barebow Category Archery 900 Round consisting of 50yds-40yds-30yds with 6 arrows a person and 5 rounds per distance (300 possible points at each distance).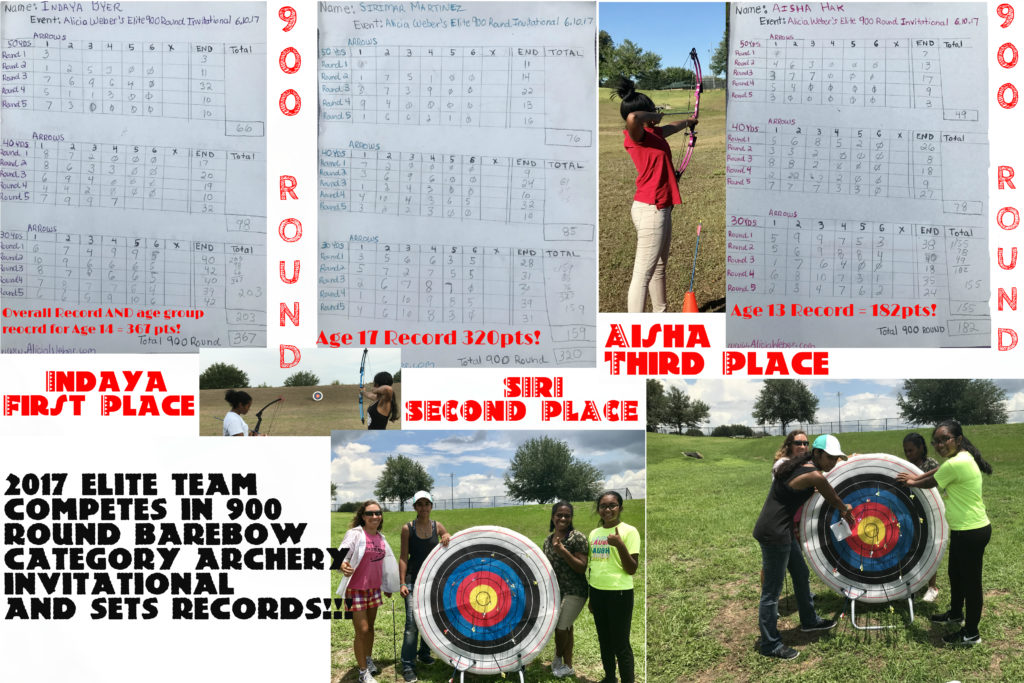 Here are their results and Top Accolade that got them here:
Indaya (age 14) scored 367 pts to set the overall league record and the age 14 record in 900 Round. She is the only girl to win two championships. She won the Fall 2015 and Spring 2016 Archery Fitness Championships. She has been training for three years.
Siri (age 17) scored 320 pts in the 900 Round to set the Age 17 League Record. She has only been training 6 months and won the Spring 2017 Archery Mind Games Championship.
Aisha (age 13) scored 182 pts to set the age 13 League record in the 900 Round. She won the Fall 2016 Domino Archery Distance Shooting Championship. She is going into her second year of training.
When asked how they felt after their first 900 Round, they all exclaimed, "Unbelievable."
They agreed that the great, positive coaching elevated them to a high level of performance today. It was a phenomenal feeling of achievement, which was both mentally and physically challenging in a unique way that is very different from other sports.
They will resume training with other athletes in a new program to challenge their skills known as Quigong Archery. If youths are interested in the upcoming program, Contact Alicia at Awinningway@gmail.com
END OF REPORT