By Weber Way to Wellness Reporter pictures are copyrighted to © AlicaWeber.com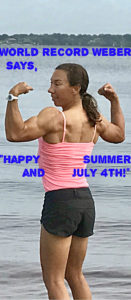 The World's Most Prolific Female Record Setter is busy again competing and going for new records in this sizzling, hot-to-trot summer. This is paddle board racing season and she recently took a victory in the SUP surfboard class at the Florida CUP. Then, she began training in new extreme paddle boarding styles (see below) and much more!
Fresh Off Weber's Florida Cup Victory she began to train in 6 extreme paddling styles to challenge herself even more and work more muscles. Weber enjoys paddle boarding for the benefits in balance and stability training and overall physical fitness (and injury prevention).
Weber's 6 Extreme Styles of Paddling
Weber really enjoys developing her strength and increasing her bone density in endurance plyometric exercises. She has been working on some new extreme plyometric exercises and she will sport them below.
Weber's 100 Consecutive Reps of The Jumping Jack Pushup


Weber's 100 Consecutive Reps of Jump Tuck Clap Pushups with Feet Flying off the Floor
Then, on Flag Day Weber performed the "Wonder Woman Flying Pushup" and threw in Flag at the end… Can you guess what flag she would have at the end of the video?
Find Out and Watch Wonder Woman Weber…
In between working on her "pushing" she kept "pulling" off some new extreme events as well!
Her most recent "pulling" event came on June 25 where she built up three months to perform this new extreme challenge known as "Most Unique Sets of 20 Consecutive Pull-Ups in 30-Minutes"
Watch Weber perform 200+ Unique Pull-Ups in 28 Minutes
Back on Memorial Day, she performed the Red, White, and Blue Patriotic Pull-up Challenge.
Watch her incredible strength and 6-pack abs in Red, White, and Blue!
Weber has been building her abs for combo events with strength. Her first combo event was the Consecutive 5-Minutes of Crunch-Deep Dips where she completed 65 reps.

Watch Weber teach and excel in the Crunch-Deep Dip Combo exercise.
World Record Weber began her build up to summer extreme challenges with her first challenge and it is considered the "world's toughest Dip." Do you know what the world's toughest dip looks like? Find Out….
Watch Weber perform World's Toughest Dip!
END OF REPORT