By Weber Way to Wellness Reporter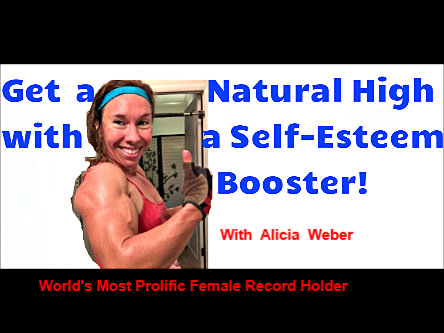 Alicia Concluded her 17 Day Track to producing Champions on November 11, 2017, where young men from the Champion Circle Program awaited to do a 45 minute "Mystery Activity." They were surprised that they competed in a self-esteem booster known as an Archery Fitness Challenge where they officially became ARCHER ATHLETES!! They worked on many skills and excelled in their activity in a timely manner. They learned that in order to develop self-esteem they need to do something and accomplish something. They were all Champions to learn new skills and complete this challenge in only 45 minutes!!
Archery Fitness Challenge Self-Esteem Booster
Alicia Weber re-set her own world record in the 30 minutes of shoulder-width grip chin ups on November 7, 2017, when she did more than 500 (over 50 reps over her previous world record set back on August 10, 2012). She gains great self-esteem when she is able to set, re-set, and re-set her longer more arduous records.
Alicia Weber breaks another record with over 500 reps of proper form chin-ups in 30 minutes!
Alicia captured her 118th overall victory on November 4th, 2017, when she ran a 5k race on packed-sand to raise funds for pediatric cancer. She was over-joyed by the wonderful environment, friends, and new friendly people (and Sandhill Cranes) she met at the event. She had a runner's high and self-esteem high that day!
Alicia's 118th Victory!
October 26 – October 31
Nineteen of Alicia's Archer Athletes would agree that success is achieved in self-esteem building activities. They all took the Qigong Halloween Archery Challenge. Three Teams qualified for the event and they finished in a Wicked Witch nail-biting close match as they took shots to ghost and pumpkin targets.
Top Shots from the Halloween Challenge
Finally, a Big Fan of many years challenged Alicia to an isometric shoulder exercise. Alicia took in the suggestion and created a new type of isometric strength and endurance challenge for Halloween 2017 involving holding two bows and doing lunges on a BOSU. The video reached 2,000+ views in just a few days and has become one of her most popular challenges for this year. Success comes from self-esteem and achievements, which makes people feel secure. Great Achievements make people popular!!!
Alicia's Halloween Isometric Bow Arm Lunge BOSU Balance Challenge
Last but not least, in order to celebrate Halloween in style, World Record Weber Wonder Woman performed a new Feats of Strength Compilation. She had such a natural high from self-esteem that she had to do a little extra in her cape.
Alicia's Halloween Feats of Strength Compilation
For archery lessons and/or archery exercise training in the Clermont and Winter Garden Area Contact Alicia at Awinningway@gmail.com
ALICIA WEBER is recognized as the "World's Most Prolific Female Recordsetter" and she was one of 10 selected to be in the Most Extraordinary People of Lake County, October 2013 Issue of Lake-Sumter Style Magazine. Weber is the 7th person down in Extraordinary People List. Weber has set over 20 archery fitness world records at Recordsetter and she guided archery athletes to world records too.
END OF REPORT