By: Weber Way to Wellness Images are copyrighted © Alicia Weber
Below is Alicia Weber's list of high profile competitions containing World Championships and North American Championships. She has competed in 6 sports in the highest level of elite competition and she has won three titles. A complete listing of All her 17 sports and competitions including national and regional championships, is here: Alicia Weber All Around Athlete here. Also, Alicia's Team of youth athletes is highlighted with their world championship results, records, and success in multiple sports.
WORLD CHAMPIONSHIPS
Beach Running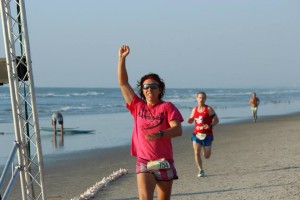 10/21/12 2012 Beach Running 10K World Championships Cocoa Beach, FL 43:53 Re-set course record World Champion
11/19/11 2011 Beach Running 10K World Championships Cocoa Beach, FL 44:35 Set course record World Champion
Team Awinningway Global Running Day Record Results
Alicia is huge fan of cross country running for the overall fitness gains, challenge of rolling terrain, and soft surface. Alicia placed second in the nation in the 1996 USATF Cross Country 5k Championship. She was a letter-winning varsity cross country runner for University of Florida and set top times in the 6k where she helped her team tie for third place at the 2000 NCAA South Regionals Championship (then doing a tie breaker UF was given 4th and just missed out on going to NCAA Nationals). These days, Alicia focuses on creating RecordSetter World Record events for Cross Country running. Her Team Awinningway set their first world record for Global Running Day in One Mile run in 2016 where 6 year old Cody Warner set the youth record running a mile for the first time in 7:18. Then, In 2017 A new record is being created with 29 participants running indoors and outdoors for Global Running Day.
Alicia has set world records in cross country pushup events. She ran 2 mile cross country followed by 200 consecutive pushups in a world record time of 18:41. She set another world record in one mile cross country followed by 100 consecutive pushups in a time of 7:55 One of her favorite cross country world records is when she completed 300 strict form thick bar pull-ups followed by running one mile cross country in 23:50.
WORLD CHAMPIONSHIP Indoor Rowing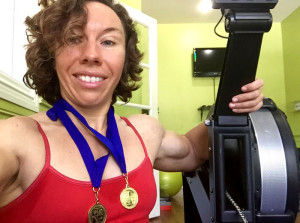 3/12/17 2017 World Indoor Rowing Sprint 1k Championships held worldwide (418 Lightweight Women) 3:49.5 26th in World
3/13/16 2016 World Indoor Rowing Sprint 1k Championships held worldwide (345 Lightweight Women) 3:50.3 26th in World
WORLD CHAMPIONSHIP INDOOR ROWING YOUTH TEAM RECOGNITION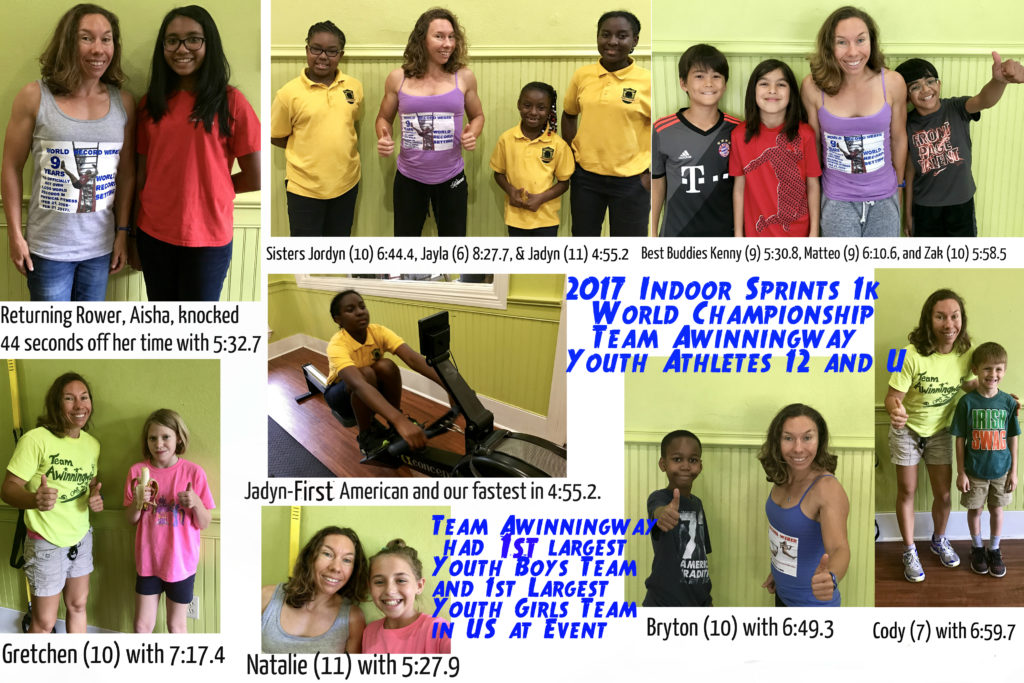 Indoor Rowing with Alicia's Team Awinningway of Youth Rowers
3/12/17 2017 World Indoor Rowing Sprint 1k Championships held worldwide Team Awinningway of Youth Rowers (Largest Youth Team in US AND 6th Largest in World) 11 Kids
3/12/17 Alicia Weber's 11yr year old athlete, Jadyn Graybill, become first American and 39th in World out of 119 youth girls in world championship
3/13/16 2016 World Indoor Rowing Sprint 1k Championships held worldwide Team Awinningway of Youth Rowers (Largest Youth Team in US!!) 6 kids
WORLD CHAMPIONSHIP Xterra Mountain Running (considered toughest half-marathon in world)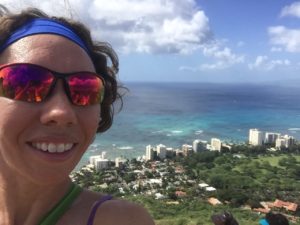 12/6/09 Xterra Half-Marathon Running World Championship (considered world's toughest half-marathon with 1700 ft of climbing over several climate zones ranging 65-90 degrees) Kualoa Ranch, Oahu, Hawaii 2:14:15 40th in World
WORLD CHAMPIONSHIP Olympic Distance Triathlon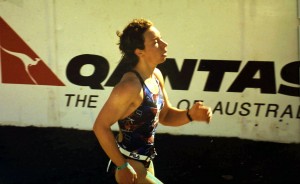 4/30/00 2000 ITU World Triathlon Championships for Junior Women Perth, Australia 1500m swim, 25 mile bike, 10k Run (accidently ran an extra 5k, so she did a 15k run) 30th in World
NORTH AMERICAN CHAMPIONSHIPS
North American Championship Stand Up Paddle Boarding (SUP)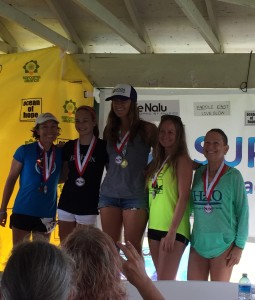 9/13/15 Bic One Design North American SUP 400m Dash Championship Melbourne, FL 4th place
Alicia's TEAM AWINNINGWAY YOUTH TEAM competed in the World's First SUP-Archery competition in the spring of 2016.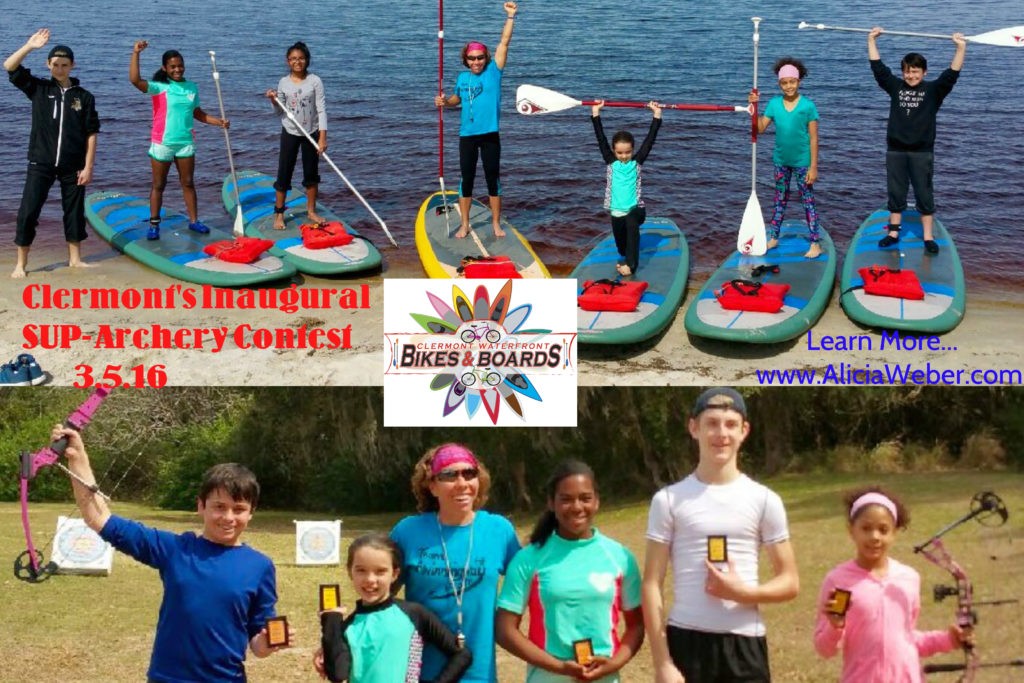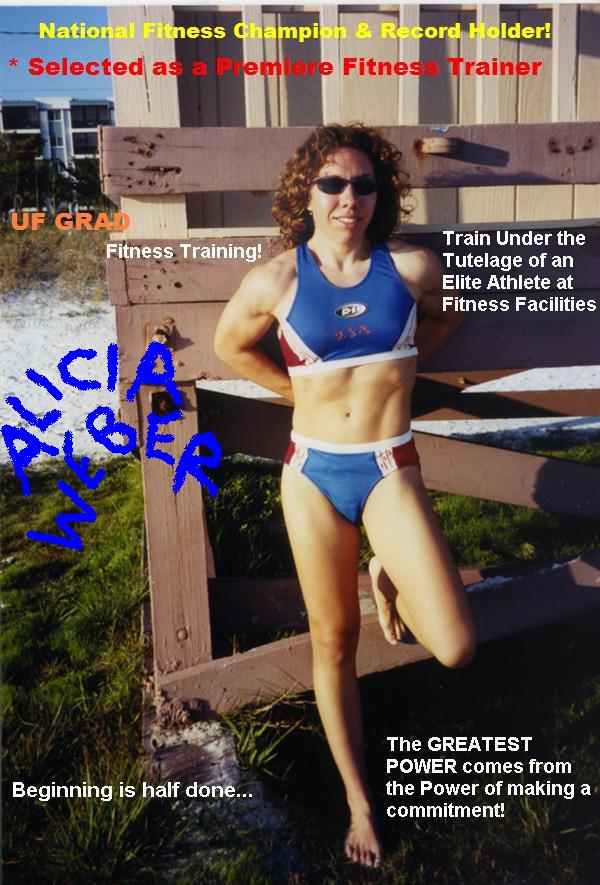 NORTH AMERICAN NOVA Fitness Championships
6/26/04 NOVA North American Fitness Championship (7 one minute exercise events in 13 minutes for most reps) St. Petersburg, FL set 5 North American Records (1st place out of men and women totaling 30) North American Fitness Champion
This MAJOR Win inspired Alicia to begin setting physical fitness world records. Beginning in 2012, she accrued so many records that she was recognized as the World's Most Prolific Female Record Setter. Alicia is also the fitness trainer who has trained the most athletes to world records.
Huff, Puff, and Triumph and Rise to the Top Under the Tutelage of Alicia Weber, contact for training info at Awinningway@gmail.com
ALICIA WEBER is recognized as the "World's Most Prolific Female Recordsetter" and she was one of 10 selected to be in the Most Extraordinary People of Lake County, October 2013 Issue of Lake-Sumter Style Magazine. Weber is the 7th person down in Extraordinary People List. Weber has set over 20 archery fitness world records at Recordsetter and she guided archery athletes to world records too.
END OF REPORT