By Weber Way to Wellness Reporter
World Record Weber's favorite holiday is Halloween for the fun, creativity, and characters that come with it. This year she had 4 days of Halloween events, which included two Inaugural Championship competitions for youth athletes.
Double Endeavor Halloween Championship Weekend
On October 29th, World Record Weber hosted a Halloween Archery Contest, which tested new and veteran archer's skills at Halloween targets (where a lot of pumpkin smashing took place). The contest was 10 times more challenging than shooting at regular targets, but after a lot of "warming up" all the archers excelled with flying black and orange colors.
A new team called Constellations prevailed on the female side to take individual first (Lanissa with 15pts) and second places (Jadyn with 11pts). Veteran 2 x champion archer, Indaya of the Camo Hunters, took third place with 7pts. On the male side, Robin Hood (Matteo) won with 28pts, brothers Alex and Nicholas tied for second place with 26 pts, and Henry from the legendary team called The Rubies secured third place with 17pts.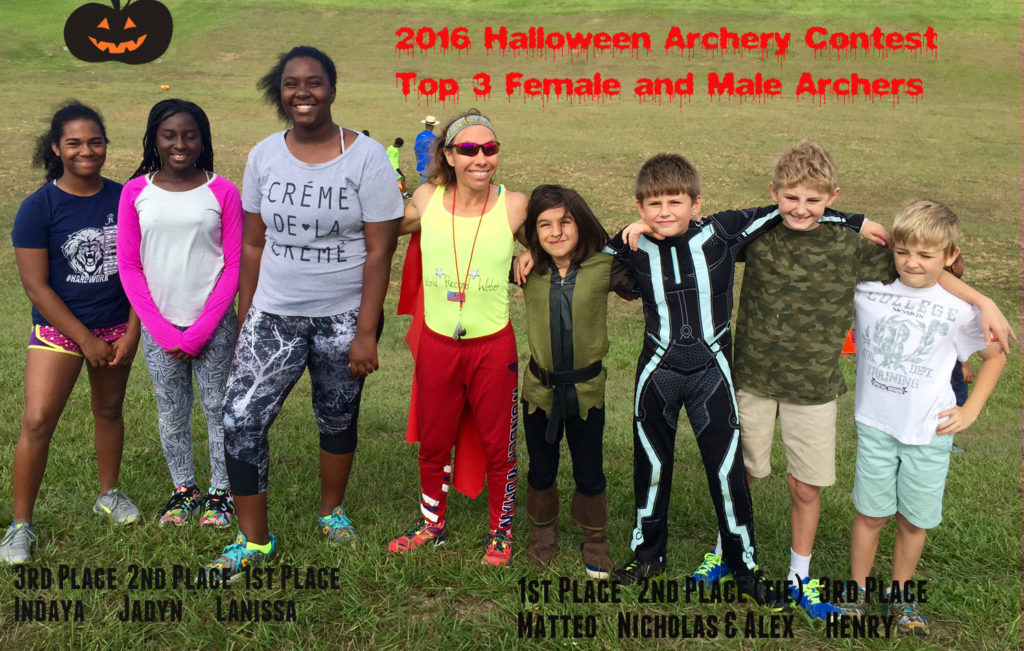 The adrenaline for Halloween competitions was just beginning to brew as some athletes returned the following day and new athletes poured in for the Inaugural Halloween Cross Country One Mile Championship.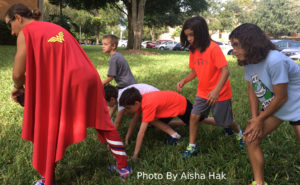 World Record Wonder Woman challenged the excited youth runners to what must be one of the toughest one mile races in the state of Florida. Prior to this competition, Weber (who has competed all over the state and nation) ran the mile course twice in 6:19 each time. Her time is a little more than a minute slower than what she would do on flat grass. She warned the racers that this is very tough and times would be slower than normal. Acting as the pace setter aka Rabbit, the Wonder Woman got the runners off to a whip, roaring start where they huffed and puffed to an incredible triumph (where approx 1,000 meters was on 12 percent grade hills and the remaining 0.4 miles were rolling or flat).

New cross country runner, nine year old JP, took the victory in 7:56 followed by teammates Nicole in 8:54 and Eli in 9:23. They took 1-2-3 and represented the Mariners.
Cody who helped set a Global Running Day world record, took 4th place. Our male and female Halloween Archery Champions, Matteo and Lanissa, finished this challenging course and called this their first-ever running race as they crossed the line in 5th and 6th place.

"The harder the challenge, then the sweeter the victory," said Matteo who had a terrific Halloween weekend.
"It feels amazing to win archery, but I like to challenge myself at events where they are difficult for me," mentioned Matteo.
Lanissa agreed with Matteo. "It feels good to try this run because I never raced before. It was a great motivation to get me out there. It felt great to win in archery yesterday with the top competition," said Lanissa.
All athletes agreed that they were happy that Coach Weber challenged them to this tough cross country course rather than give them an easy, flat race.
Now, these motivated young athletes will prepare for their next events as they remember and are inspired by the words from Matteo,
"The harder the challenge, the sweeter the victory."
END OF REPORT