By Weber Wellness Reporter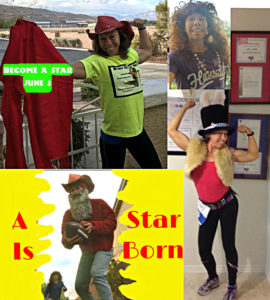 Alicia Weber invented her own genre of comedy known as "Improv Fitness Character Comedy" where she has performed as a dozen different characters over the past 20 years in extemporaneous acts at anywhere from local events to National Championships.
Now, Alicia has developed an exciting new course for youth to learn the 5 areas of physical fitness AND create their own character to perform! Each day builds on new elements of Improv Comedy and character development as students explore an area of fitness each day. Students will have a grand time laughing, getting fit, making new friends, creating their own character, and learning Improv Comedy! They will build self-esteem, confidence, and they will all get a copy of Alicia's book entitled, "Your Winning Way to Physical Fitness."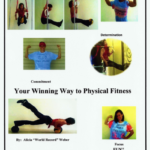 Join the course today and challenge your imagination to new opportunities! Contact Alicia at Awinningway@gmail.com or call/text at 352-874-4363.
About the Instructor: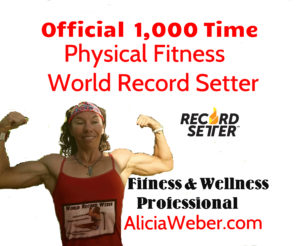 Alicia Weber is a degreed fitness and wellness professional with 20 years experience training all ages and ability levels in many areas of sports, fitness, and wellness. When she is not training people, she enjoys cackling and doing comedy routines and competing as an elite athlete in 17 sports (not competing in all of them at once though) with over 115 victories. On August 21, 2017, Alicia Weber officially set 1,000 physical fitness world records at RecordSetter and became the first person to achieve such a feat (it took 4.5 years). She has been recognized as the World's Most prolific Female Record Setter in the World, since 2012. As a competitor and entertainer, traveling to major competitions and entertaining one day and racing the next day, it was her goal to entertain and win!! She achieved this goal when she performed an Opening Act at 2015 Clermont Spring Arts Festival as "Audrey Athletica" and then the next day she won the USA Beach Running 10k National Championship in Cocoa Beach, Florida, with over a thousand competitors. She is currently the "Most Decorated Championship 10k Beach Runner" winning 3 events, placing second at 2 events, and third at one event over the past six years.
Since 2010, Alicia has been featured in top shows and publications including the following:
1. Featured in Believe the Unbelievable: The Ultimate Book of World Records and the People Who Pursue Them By Record Holders Republic, Bartleyby Press 2010,
2. Featured in Top Selling Book (7 Weeks to 50 Pull-Ups By Brett Stewart, Ulysses Press on May 20, 2011),
3. Featured in Ben GreenField Fitness interviewed on Nutrition (2012)
4. Featured in Shot of Adrenaline in interview on Mind Training (March 2012)
5. Featured in the Official Pushup Hall of Fame Fan Page and in 2012 Alicia became the Only Woman Ever Inducted into the Official Pushup Hall of Fame (January 2012)
6. Selected to Star in Celebrity Softball Game as Opening Pitcher in the Game at Clermont National Training Center (August 2, 2013)
7. Selected By Lake Sumter Style Magazine as of One of 10 Most Extraordinary People in Lake Sumter County Florida (Alicia is 7th person in list) for 2013
8. Featured in Military Times: 3 Drills to Better your Pull-Ups from Record Holder Alicia Weber on April 9, 2014,
9. Selected for America's Got Talent 10 as "World Wecord Wabbit" made it to Final Audition in Tampa, Florida, and was one of 6 selected for special taping on Nov 2-3, 2014)
10. Played a role in WWE Tough Enough-Season 6 Episode 5 (where she was first woman finisher in obstacle race although her win was not shown in show aired on July 21, 2015), and
11. One of 115 Record Holders featured in DreamWorks Kids Recordsetter Kids Show (2015).
12. Selected Sports Writer, Sports Photographer, and Wellness Columnist for Top South Lake Online newspaper (South Lake Tablet) from 2013-2016
13. Selected By International Police Association (IPA) to cover police sports news for Region 39 and The National Reporter (2015-2016)
Are you looking to Stand Out? Learn Improv Fitness Character Comedy TODAY CALL/TEXT 352-874-4363 to enroll in a course.
Below are TOP STUDENT PERFORMANCES After ONLY ONE Improv Fitness Comedy Training Session!!!
See Student's Act @ 2:00
World Renown Olympic Track Coach, JJ Clark, in his first-ever Improv Fitness Comedy Show with Alicia Weber and her character, "Madalina Seg"
Young Students on Last Day of Summer Camp combine drama, improv comedy, and fitness skills in various performances.


NEVER MISS AN OPPORTUNITY TO BE GREAT—join this unique class TODAY and learn skills to last a lifetime at 352-874-4363
"Alicia and The Clan" perform in many internet shows and live acts. Below are some of her favorite performances.
The Clan Lands in Hollywood (Mini Series)
New Year New You Wellness Edutainment Series
Select Short Skits

WATCH MORE FITNESS COMEDY and/or Subscribe to Alicia's youtube Channel at www.youtube.com/user/AliciaAndClan