By: Weber Way to Wellness Reporter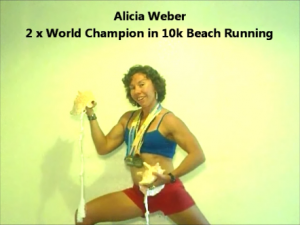 INTRO
Alicia Weber, World's Most Prolific Female Record Setter in World History, had her best year to date in 2012 for record setting and wins. Alicia set 205 world records all in strict form exercise events with RecordSetter (and 4 with Book of Alternative Records in Separate categories) in JUST ONE YEAR (2012). Alicia began 2012 with an induction into the Official Pushup Hall of Fame (and only woman inducted in Hall of Fame). Then, she was selected as One of the Top 25 Extreme and Elite Athletes to represent in articles for the mindset of toughness and nutrition for performance. As a premiere fitness trainer, she guided 6 athletes to a total 13 exercise world records. Ending the year, Alicia earned the 6th Most Popular Recordsetter World Record set in the year 2012 (out of 10,313 record set this year!!). Following these accolades, Alicia took 6 victories in elite competition and competed in 4 sports. Alicia's 2012 athletic highlight was becoming the 10k Beach Running World Champion for the 2nd year in a row enroute to re-setting the course record. In total, Alicia garnered 81 career victories out of 199 competitions and holds 162 world records to date (and set a total of 270 world records that includes records set and re-set). We now look back at the 205 Recordsetter records she set in 2012 and pick out Alicia's Top 10 Toughest Exercise Records that she set based on level of difficulty, exercise dynamics, and level of conditioning to achieve the record.

Alicia reviews and rates these records from 10 to 1 (toughest record set) and takes into account fans input as well, but Alicia ultimately will know which one is the toughest to set.
Here are Alicia's Top 10 Toughest Records that she set and holds in the year 2012:
# 10 Fastest Time to Complete 100 Tricep Pushup Freestyle Medley
# 9 Fastest Time to Complete 1 Mile Run and 400 Chest Touching Ground Pushups
# 8 Highest Score in 20 Minute Triple Exercise with "Triple Eggsercise" Challenge
# 7 Highest Non-Stop Climb for an Arms Only Rope Climb in One Minute
# 6 Most Chin Ups for 3, 30, and 60 Minutes Completed in One Bout (setting 3 new records all at once!!)
# 5 Most Consecutive Strict Bar Dips in 5 Minutes
# 4 Fastest Time to Complete 500 Chin Ups and 500 Push Ups
# 3 Fastest Time to Complete 500 Consecutive Reptile-Pushups
# 2 Most Consecutive Reps of Reptile-Pushups in 1 Hour
# 1 Fastest Time to Complete 100m Consecutive Plyometric Alligator Pushups
Congrats to Alicia and we wish her more exciting record setting in 2013!!!
END OF REPORT