PHOTOS BELOW COPYRIGHTED © ALICIA WEBER
In 2016 The World's Most Prolific Female Record Setter, Alicia Weber, claimed her fifth consecutive year with the title after setting 210 Official RecordSetter World Records All in Physical Fitness. Additionally, she ended 2016 with 113 Career Victories as an elite athlete. She competed in 4 sports in 2016 (SUP, beach running, indoor rowing, and cross country running).
WEBER LEARNS NEW SPORT IN 2016 – FOOTGOLF
Alicia did not compete in footgolf yet, but she spent the summer learning the new sport.
REFLECT ON FIVE YEARS OF SUCCESS AS WORLD'S MOST PROLIFIC WOMAN RECORD SETTER
The end of a year is a time to reflect on great success and look to improve and become the best you can be in the new year! In 2016, Alicia competed in 11 competitions (6 victories, 4 second places, and 23rd in world championship). Alicia also took her 5th year in a row as World's Most Prolific Female Record Setter and placing top 10 among all record setters. Also, in the past 5 years Alicia has been featured in top shows and publications including the following:
1. Believe the Unbelievable: The Ultimate Book of World Records and the People Who Pursue Them By Record Holders Republic, Bartleyby Press 2010,
2. Featured in Top Selling Book (7 Weeks to 50 Pull-Ups By Brett Stewart, Ulysses Press on May 20, 2011),
3. Military Times: 3 Drills to Better your Pull-Ups from Record Holder Alicia Weber on April 9, 2014,
4. Played a role in WWE Tough Enough-Season 6 Episode 5 (where she was first woman finisher in obstacle race although her win was not shown in show aired on July 21, 2015),
5. Selected for America's Got Talent 10 as "World Wecord Wabbit" made it to Final Audition in Tampa, Florida, and was one of 6 selected for special taping on Nov 2-3, 2014), and
6. One of 115 Record Holders featured in DreamWorks Kids Recordsetter Kids Show (2015).
WEBER REACHED 800 RECORDSETTER WORLD RECORDS ON OCTOBER 26, 2016, AND KEPT GOING TO FINISH OUT THE YEAR WITH AT LEAST 850.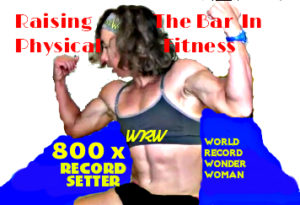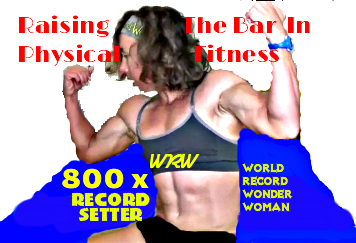 WEBER'S WORLD RECORD PROGRESSIONS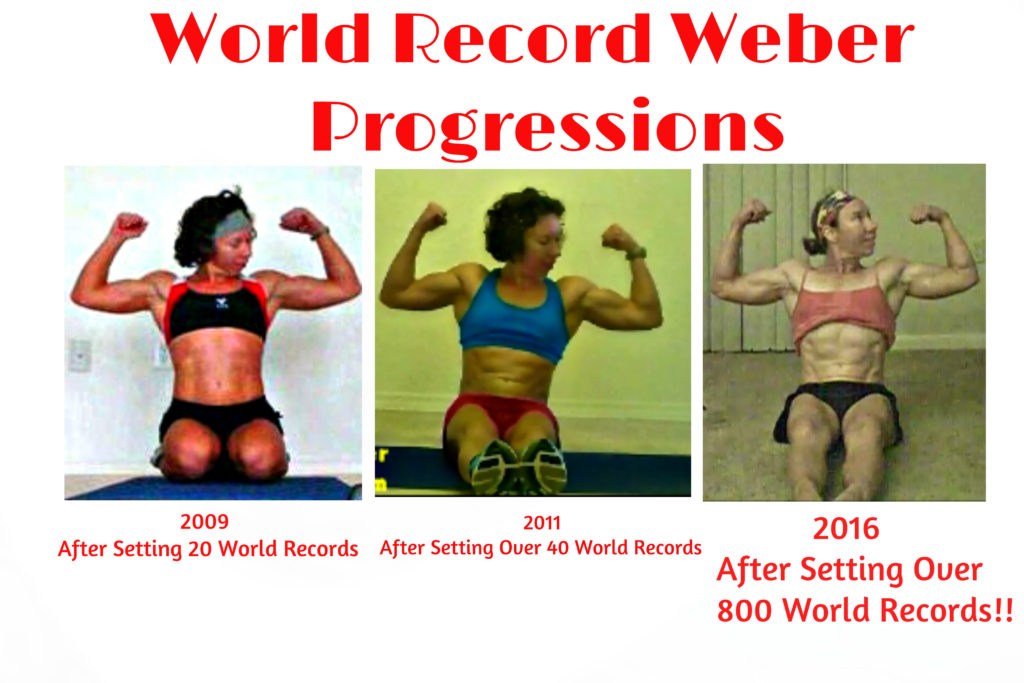 2016 CAREER HIGHLIGHTS
1.) Alicia's favorite event was when she won double gold medals at the 2016 Southern Sprints Indoor Rowing World Qualifier Event (and she became only one of 3 lightweight women to win the double in the past 15 years).
2.) Alicia has continued to make her mark in beach running with her second place female finish out of 1,000 competitors at the 2016 Beach Running National Championships. She continues to be the most decorated beach runner!
FINAL RECORDS OF 2016
Weber leaves 2016 with 1,334,736 youtube views and over 1,500 subscribers and an incredible, new VideoTeasing World Record Weber Video Package

New 2017 Strength Feat and Flexing Video Package Preview
END OF REPORT