One competitive male athlete says, "The proof is is in the pudding for Alicia Weber's 52 Week Log Book and Inspiring Exercise and Nutrition Guide Book called Your Winning Way to Physical Fitness.  Alicia Weber is a 50 x world record holder in over 30 categories of strenuous exercise events and she competes on an elite level in 15 sports.  Who wouldn't want advice from someone so experienced that has achieved so much?  She definitely helps me win in my sports!  I definitely recommend her book
Your Winning Way to Physical Fitness
."
Your Winning Way to Physical Fitness

Available in the Kindle Store as an ebook on Amazon.com
Click Link  below to get to it!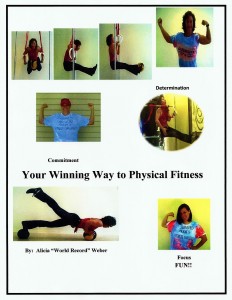 Continue Reading Below For Book Reviews by Men!
"Alicia Weber's new fitness book, Your Winning Way to Physical Fitness is as comprehensive as her personal list of world records in strength and fitness. Starting with the simple idea that you have to know where you have come from, know where you are, and know where you want to go, she draws on her years of experience and training to show the reader how to test your initial levels of fitness, log and measure your progress, properly nourish the body, and set reasonable goals to achieve those levels, whether modest or competitive.
While most won't seek the levels Alicia has achieved, she shows by example, what the body is capable of if properly and consistently trained and nourished by a proper diet.
I don't believe anyone will be disappointed in the book, its advice, or the results that advice can accomplish if one is motivated and willing to work at improving themselves.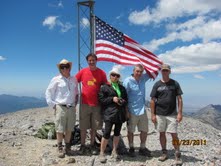 She won't do the work for you, but she will save you a lot of time, effort, and possible injury, from doing wrong or ineffective things.
What is certain is that anyone who reads and follows the book's advice will be fitter, healthier, and stronger in the future." – John, Fitness Enthusiast
"There's an old saying that "The Proof is in the Pudding" in this case 'the pudding' is 50 world records and "The Chef" is Alicia Weber.
You simply can't argue with The Know How That Leads to THAT KIND OF SUCCESS!

Of course Alicia's book , Your Winning Way to Physical Fitness

will get you winning and to the next level!
P.S. She has a delightful sense of humor that helps dull muscle pain." -Ron, Retired Police and SWAT Team member and current competitive athlete
CLICK HERE for Your Winning Way to Physical Fitness
var _gaq = _gaq || []; _gaq.push(['_setAccount', 'UA-30201144-1']); _gaq.push(['_trackPageview']);
(function() { var ga = document.createElement('script'); ga.type = 'text/javascript'; ga.async = true; ga.src = ('https:' == document.location.protocol ? 'https://ssl' : 'http://www') + '.google-analytics.com/ga.js'; var s = document.getElementsByTagName('script')[0]; s.parentNode.insertBefore(ga, s); })();