By Alicia Weber
photos copyright©Alicia Weber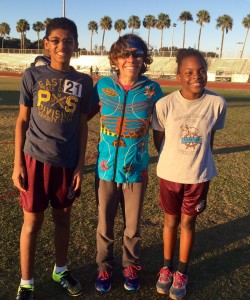 Dannuta Hyacinth and Ahmad Alenezi are two outstanding, well-rounded track athletes who were the lone representatives for their middle school track team. They took on the challenge to learn how to be focused and prepare for jumping, running, and middle distance events through effective, fun training techniques. They gained personal bests in all their events, a top 10 finish in their best events at the 2016 middle school Central Florida Championship, and a boost in self-confidence with a new found thrill in running.
With short notice, a track team was formed where I was the coach. The program was only 5 weeks in length. They only had one week of practice before the first meet. They competed in a total (3) meets ending in a very competitive championship on March 17, 2016. There were an average 20 competitors in each race.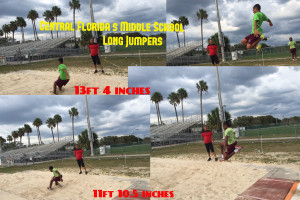 On March 17, the 6th grader, Dannuta, took 10th in the long jump with a new personal best of 11 feet and 10.5 inches. Additionally, Dannuta took 16th with a new PR in 100m (15.47), and 11th in the 200m with a new PR (33.30). The 8th grader, Ahmad, took 10th in the 800m in a new personal best time of 2:58.23. He earned personal bests in all his other events at the second meet with 14.92 in the 100m, 31.33 in the 200m, and 13ft and 4 inches in the long jump.
They both learned how they can have a remarkable rate of improvement through high quality, low quantity workouts. Dannuta trained under my tutelage for only 9 hours over the course of 5 weeks. She improved her long jump by 6.7 percent, she improved her 200m time by 3.5 percent, and she improved her 100m time by 1.22 percent.
Ahmad trained under my tutelage for only 5 hours over the course of 5 weeks. He improved his best event, the 800m, by 2.1 percent.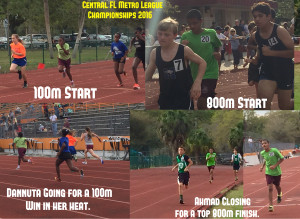 Greatness is measured in quality. These athletes are looking forward to more great things with their new sport of track and field.
Be a yardstick of quality. Some people aren't used to an environment where excellence is expected." – Steve Jobs
Contact Alicia for Coaching and Personal Training at Awinningway@gmail.com
END OF REPORT