CENTRAL FLORIDA—February 5, 2017… The 2017 Central Florida Youth Running and Conditioning Program is underway in the new year and it continues to expand on unique programming and fun training methods for youth!
A 2017 TRAINING HIGHLIGHT
Here are just FOUR of the many reasons youth are excited to join this program:
1.) You get to train with the World Champion Athlete and World's Most Prolific physical fitness record setter, Alicia Weber!
2.) You know you will be getting results and the training is time efficient and fun!!
3.) We promote great sportsmanship, fair play, fun running games, gaining fitness to improve and try other sports, and building friendships!!!
4.) Training is very reasonable with FREE events throughout the year, which we have won!!!! You are joining a WINNING TEAM!!!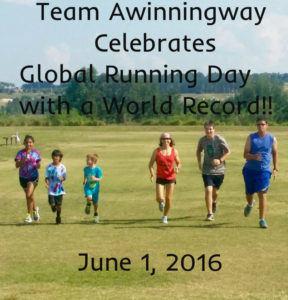 Here are some events youth can look forward to in 2017:
1.) Cross Country Race
2.) Global Running Day World Record Attempt to break existing record, which our team set in 2016
3.) Indoor Rowing Sprint World Championship where we had largest US Team in 2016 and we look to improve in 2017
4.) SUP Fitness Events (where our team competed in the World's first-ever SUP Archery event in 2016).
Contact Alicia to join a WINNING TEAM at Awinningway@gmail.com
END OF REPORT