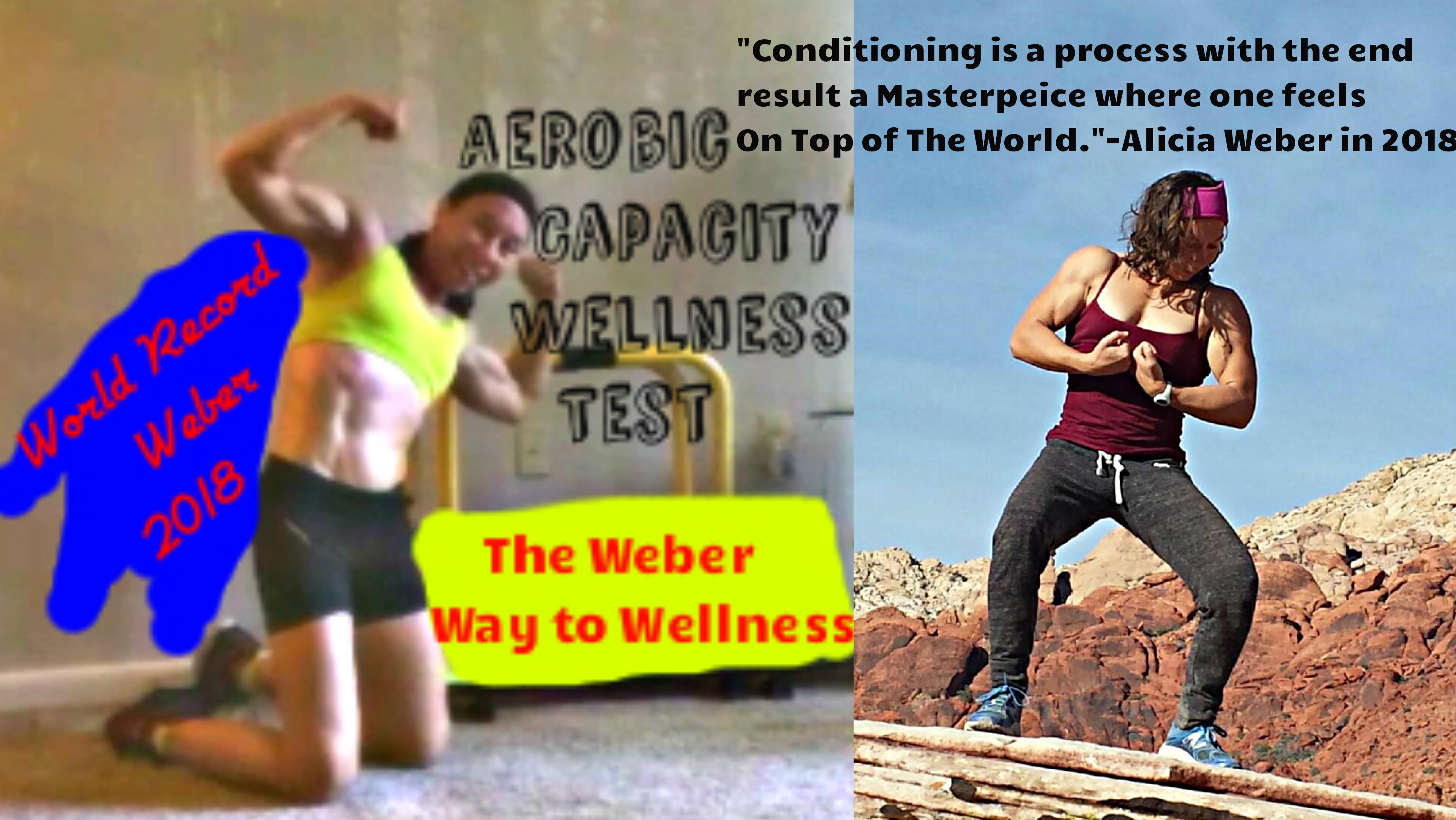 By Weber Way to Wellness Reporter Anyone who knows Alicia Weber really well knows her famous line – "It's just training." It is her relentless training or constant conditioning, which allows her to keep setting new standards in physical fitness. Training is not everything though, the right fuel is imperative. Alicia knew the best way to be successful at setting one of her hardest world records to set and re-set would be getting a Greek Salad and Wild Salmon at VIDA 365(before attempting this challenge).
The energy from healthy foods kicked in and KA BOOM!! Alicia pushed out an intense bout of the Incredibly challenging Aerobic Capacity Wellness Test (she invented after 9 years of study) and set a new benchmark. She was able to shave 3 seconds off the previous record and re-set this record for the 4th time on January 14, 2018. She can also call this her first record of 2018!!
Alicia's 2018 Aerobic Capacity Wellness Test
Success is not an accident..the smart planning and conditioning get results. Get in shape with Alicia Weber and attend a Wellness Workshop or Online Fitness Makeover Program. Contact Alicia at Awinningway@gmail.com for info.
Leading up to this record, Alicia has been very busy living it up in Las Vegas and training muscle groups to prepare her for this record. We will get fans up to speed on the latest with the World Record Wonder Woman, since we have not heard from her since November!! Alicia and "The Clan" did 8 firsts in Las Vegas for Christmas and New Years as you will see in this video:
Alicia is very adventurous. She went to her first Vegas Golden Knights Hockey game and watched them WIN BIG against Tampa and she has turned into a HUGE FAN!! She definitely recommends going to their games in LAS VEAGS – THE ENTERTAINMENT CAPITAL OF THE WORLD.
Watch Vegas Golden Knights Win a Game Against Tampa
A fabulous new adventure-themed park opened in Las Vegas in Summerlin on December 16th and Alicia was one of the lucky individuals to be one of the first to test the new state of the art equipment!
Alicia on NEW Las Vegas Adventure-themed park
Back to records, Alicia brought in the New Year with a record category she created back in 2016 and she tried a new ab exercise. Alicia also had an "Ab Lab" for Christmas. Finally, Alicia listened to suggestions by long-time fans and she made a series of 11 very tough cadence test exercise events to count down to Christmas 2017. All the videos are below for fans to learn tough moves and enjoy.
Last Records of 2017:
2017 YEAR IN REVIEW: Alicia competed in 11 races in 2017(4 sports). She won 4 events and placed 26th in World in her 6th World Championship (Indoor Rowing Sprints World Championship). Alicia set the most world records ever in 2017 and they have not all been tabulated yet…but she set at least 250 world records all in physical fitness. She has been recognized as the World's Most Prolific Female Record Setter, since 2012. Alicia also turned PRO in record breaking at RecordSetter in May 2017.
Alicia Wishes her Fans ALL THE BEST IN 2018!!!
END OF REPORT