By:  Weber Way to Wellness Reporter Click here to visit JD Productions.
CLERMONT, FL—On May 27, 2010, Alicia Weber pushed her limits to maximum strength within 45-minutes and the results – MORE WORLD RECORDS!
Inspired by the Legendary Jesse Owens greatest achievement in track and field where he set 3 world records and tied a 4th within 45 minutes on May 25, 1935 at the Big 10 Championship, Alicia Weber (former champion track and field runner and current Strength Athlete) wanted to see how many maximum strength world records she could garner within 45-minutes.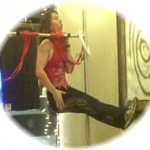 Alicia picked 6 maximum strength exercises that increase in the level of difficulty through adding components of coordination/balance and both large and small muscle groups as the rest time decreased.  She had 9 minutes of rest after her first exercise and less than 2 minutes of rest before her last exercise.
She began and ended with exercises based on speed and strength. Her 1st exercise with 37 pull-ups in 1 minute is the official new world record and her last exercise of 18 ring dips in one minute is the official new world record Both published world records and she is now in a new World Record Book: Believe the Unbelievable: the Ultimate Book of World Records and the People who Pursue Them
Alicia's 2nd -5th exercises were meant to wear her out a little and make the last minute of ring dips challenging.  Alicia says, "I did a set of 35 consective pull-ups then 30 consecutive chin-ups followed by 11 handstand pushups in a minute (where head comes to floor each rep) and finally the hardest type of dip – ring L position dips.  Consecutive exercises are very taxing on the muscles and then the handstand pushups and ring L dips are the most challenging of all these exercises with their elements of balance and use of large and small muscle groups."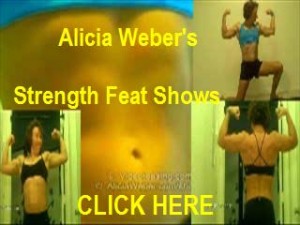 The final results:  5 world records in 45-minutes.  However, the consecutive pullups/chinups and handstand pushups will not be published because those categories are not open. The international governing body needs to restrict categories and the rules are very strict.  Alicia's Ring L position Dips were declined a world record, since not all the reps were perfect.
Required for this record, Alicia had a surveillance camera following her and 4 other cameras getting different views of the exercises performed.  The 45 minute surveillance video is now turned into a show for purchase called "World Record Weber – 45 Minutes of Maximum Strength World Records" found exclusively at Videoteasing.com and AliciaWeber.com
Alicia Weber is a 30+ x Official World Record Holder in Strength and Endurance.