By:  Weber Way to Wellness Reporter Click here to visit JD Productions.
Clermont, FL–August 7-13, 2011  Alicia Weber raises her bar again in physical fitness!  Almost 1 year ago, she celebrated World Record Weber Week where she spent a week setting a variety of physical fitness world records in between training her own personal fitness clients! Alicia is a self-coached world record holder in over 30 categories of exercise events. This year's World Record Weber Week is full of extreme challenges!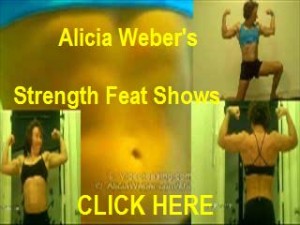 On August 7th, Alicia set a total of 4 World Records in both 1 minute and 3 minute Chinups/Pullups events ALL within just 18 minutes!
On August 13th, Alicia did 1 hour of CONSECUTIVE pushups and Mtn. Climbers to become the first woman to set a 1 hour pushup world record.  Alicia combined the exercises and made herself hold a plank the whole time to make the record attempt much more challenging.  Alicia completed 1,020 pushups (and 826 mtn. climbers!) in 1 hour to set a new world record.
In this Year's World Record Weber week, Alicia set 5 world records.
Pullups/Chinups World Records See:  http://recordholders.org/en/list/chinups.html
Pushup World Records See:  http://www.recordholders.org/en/list/pushups.html
ON A SIDE NOTE:  Alicia set a 1 mile (1609 meter) jump rope running world record in a time of 6:33 on the track in Clermont, Florida, on June 26, 2011 See:  http://www.alternativerecords.co.uk/recorddetails.asp?recid=509
I ask Alicia on her thoughts after this year's week of records.  Alicia says, "I was thinking about my fans and how much they should love the new flexing videos I made after doing these world records.  I will have my new world record videos full of flexing and a Special Triple Apple Crush for Time from a One Arm Flexed Hang available at www.VideoTeasing.com/alicia.htm
See the Apple Crush Preview Below: "
httpv://www.youtube.com/watch?v=d2a4ntiOvok
These new world records, puts Alicia's world record count upto 56!
END OF REPORT

var _gaq = _gaq || []; _gaq.push(['_setAccount', 'UA-30201144-1']); _gaq.push(['_trackPageview']);
(function() { var ga = document.createElement('script'); ga.type = 'text/javascript'; ga.async = true; ga.src = ('https:' == document.location.protocol ? 'https://ssl' : 'http://www') + '.google-analytics.com/ga.js'; var s = document.getElementsByTagName('script')[0]; s.parentNode.insertBefore(ga, s); })();