By: Weber Way to Wellness Reporter
Alicia Weber knows how to get results. She holds the most world records in strength, speed, endurance, and archery and she is an elite athlete in 17 sports. Weber just captured her 87th career victory at the NTC Ultimate Series Cross Country Championship as she guided first time cross country runners.
Trainees described Alicia's archery fitness training as "so much fun, but yet getting so many overall fitness results."
Alicia Weber trained a mother and son in competitive archery and fitness focusing on running endurance.
She teaches the same techniques, which make her a champion.
Weber exclaimed, "I train with all my clients…run beside them, exercise with them, all while motivating them to be their best."
Weber knocked off nearly a minute off her 4k time to win overall for women and take 7th overall in 15:57. Her trainees finished together in sub-29 for their first ever 4k cross country.
They exclaimed, "This is addicting. We love it. We look forward to more training and racing."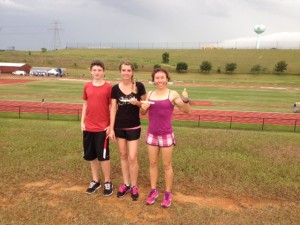 ALICIA WEBER is recognized as the "World's Most Prolific Female Recordsetter" and she was one of 10 selected to be in the Most Extraordinary People of Lake County, October 2013 Issue of Lake-Sumter Style Magazine. Weber is the 7th person down in Extraordinary People List. Weber has set over 20 archery fitness world records at Recordsetter and she guided archery athletes to world records too.
Alicia Weber is a running and archery coach in Central Florida and offers camps and clinics. Contact Alicia for archery, running, and fitness training at Awinningway@gmail.com