HEADLINE NEWS: CLERMONT, FL—-First Ever Indoor Rowing World Sprint Championships has TEAM AWINNINGWAY from Clermont, FLorida, largest US Team represented in the these first-ever world championships!!!
By: Alicia Weber
The first ever World Indoor Rowing Sprint Championship was held March 11-13 where 3,226 adults and 726 kids competed worldwide. The goal of the championship was to attract new athletes into the sport and compete on a Concept 2 machine from anywhere. As a Clermont event director, I made the goal of recruiting the most youth (age 12 and under) into this competition where I provided free training and a free race. I'm happy to say that I had the largest US team of indoor rowers (age 12 and under) representing the USA in this world championship.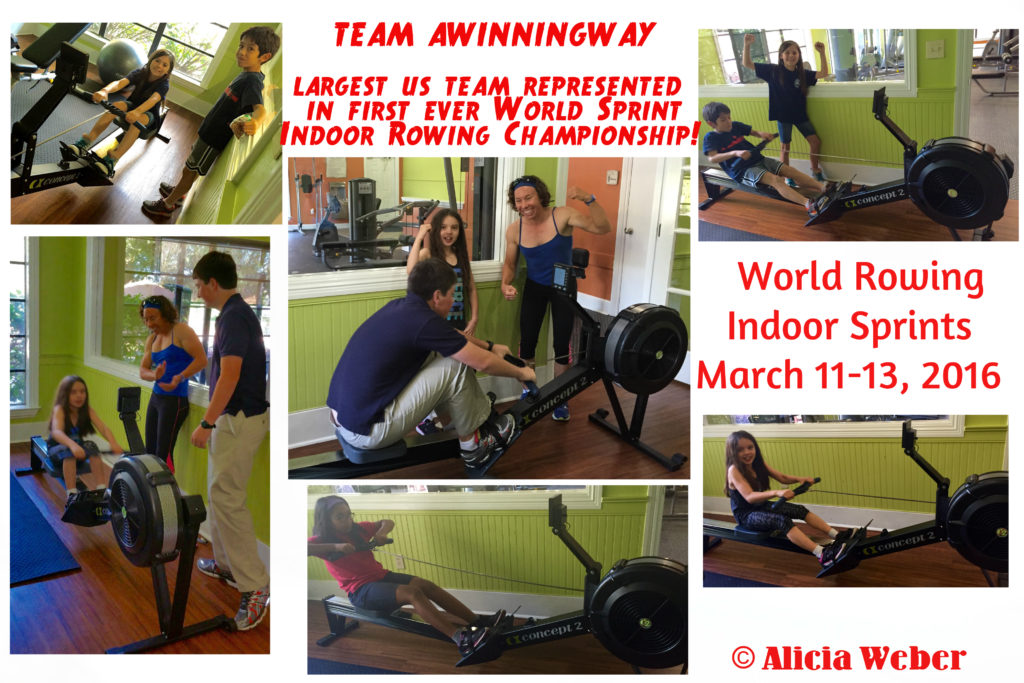 I also competed and placed 26th in the world among lightweight women with my new best time of 3:50.3 for the 1,000 meter. My youth team came into this event with zero experience and my mission was to follow their success and see how they felt to do so something out of the ordinary. They learned how to row on a Concept 2 Machine and then competed in the 1,000 meter event all in the same day.
Hannah Bibby, 8, never competed in a sport before and she was our 2nd fastest girl on our Awinningway Team, our youngest competitor, and she placed 59th in the world for girls (12 and under) with her time of 6:42.3.
"This is phenomenal for me. When Alicia asked me if I wanted to learn to row and compete, I said yes because I want to take advantage of every opportunity. It feels good to exercise on an indoor rower," mentioned Bibby who can now call a world championship her first-ever sport competition.
All the kids learned proper breathing and proper form for indoor rowing and they all exceeded their expectations and mine in their performances.
"This is awesome. I have more confidence and I like testing myself physically and this is a good physical test," said the excited Nico Kurihara-Taylor after completing his row. He placed 82nd in the world for boys (12 and under) in a time of 6:27.4.
The kids watched each other race and cheered for one another. They are looking forward to their next event now.
"I feel like I am on top of the world," said the uber-competitive DJ Belanoff who expected to do 10 minutes, but finished in 7:30.7 for girls (12 and under).
Aisha Hak, 11, was the fastest youth girl on our team with her time of 6:16.7, which placed her 53rd in world for youth girls (12 and under).
"It takes a lot of energy and strength. I am surprised I did as well as I did. It's my first day to do it and I know I will only be getting better," commented Hak after her race.
Andrew Powell, 13, was the only athlete on our youth team who had experience in an aerobic sport. He is also a cross country runner. He was able to get faster and finish his first-ever 1,000 meter in 4:45.7. He competed against nearly 400 boys upto age 18.
"I felt fatigue in the last 300 meters, but I pushed myself to finish strong because I am really motivated to do this event and try something new," said Powell who was thankful for the opportunity to compete in this world championship.
"This event has been a great opportunity to keep kids active and off electronics. We appreciate having this opportunity for our kids," added two parents of the athletes.
Contact ALicia at Awinningway@gmail.com to join her sport league and do unique events.
END OF REPORT