By: Alicia Weber
My clients call the knee tuck the toughest ab exercise and there is good reason to call it that – it works balance and it is a total core training exercise PLUS go for endurance and one will find it tests leg strength (psoas major m., hip flexors, and quadriceps). Keep working at it and churn your way to more than 6 pack abs, but bullet proof abs!!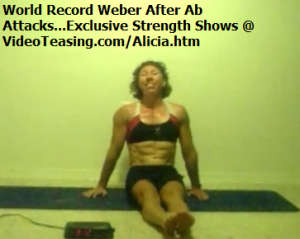 My clients keep improving their knee tucks as my one 60 year old female client set an all time best of 60 consecutive knee tucks the day after I demolished two knee tuck world records.
The knee tuck exercise is a competitive exercise category at RecordSetter World Records and I attempted to break 2 knee tuck world records in the same day. I began with the 5lbs Ankle Weighted Knee Tuck Record (with 5lbs Ankle Weights on both ankles). I had to go over 103 consecutive reps to break the current world record. I went thru several rounds to get into the rhythm as no pauses are allowed, so balance and control are very important. After 4 attempts, I finally broke the world record with 120 consecutive…One down and another to go!!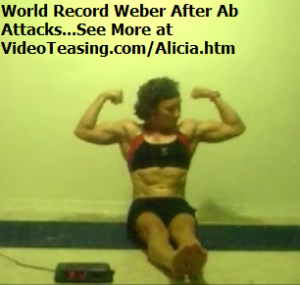 One and a half hours later, I returned to attempt to break the bodyweight only consecutive knee tuck record, which is 310 reps. I kept going, and going, and finally my foot touched the ground and the attempt had to end at 311 reps. Unsatisfied with only being 1 rep over the record, I regrouped and returned 2 hours later with a more focused frame of mind for an exercise that requires great concentration and control…the RESULT: 402 consecutive reps – demolishing the former record!!
Below are the back-to-back Knee Tuck RecordSetter Record Videos. The weighted Record first followed by the Bodyweight only. Keep watching – at the end there's 2 minutes of Flexing!! Enjoy!!
*Looking for a trainer to get you 6 pack abs in Central Florida? If so, Alicia can get your abs in top shape and she can be reached at Awinningway@gmail.com
END OF REPORT