By Weber Way To Wellness Reporter Pictures copyright © Alicia Weber
The exciting championship finally arrived and competitors were excited to step up to the cone and give their best efforts. All walked away with age group records and new personal bests in a combo archery target event.
Archery Photo Contest Highlights and Champions
Families enjoy the event for the fun, friendly atmosphere, which encourages good sportsmanship and team play. Determined and dedicated archer, Aisha of the Purple Pandas, won this championship with her score of 96. This is a huge victory for her and she exclaimed, "It feels great to win."
Matteo won this event before and won again today. "I feel amazing," he said winning first for boys and third overall with his score of 84x.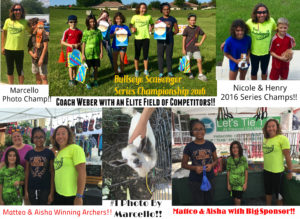 It was an exciting match up between Aisha and Nicole of NS Archers as only two points separated them for the Series Championship. Nicole won the Series Championship by one point and finishes second overall today with 94x. Both competitors have developed a lot of confidence and skill over the past year. Their coach was very happy that they both got a big win today!
Henry of The Rubies won the Championship for the boys. He has been showing great progress along with teammate Marcello who attended the one week training camp. Izzy won the first Bullseye Scavenger Hunt and she improved her score on this one.
The archery was very challenging and the scavenger Hunt was the most challenging as well, but there were the most prizes in this championship!
Here are some of the top photos.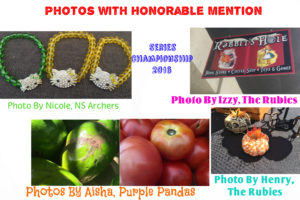 Congratulations to all competitors!!
Contact Alicia at Awinningway@gmail.com for upcoming events.
END OF REPORT