By Alicia Weber
As an elite athlete and fitness professional, I achieved my greatest successes to date in 2015 and I look forward to 2016 and helping others exceed their goals!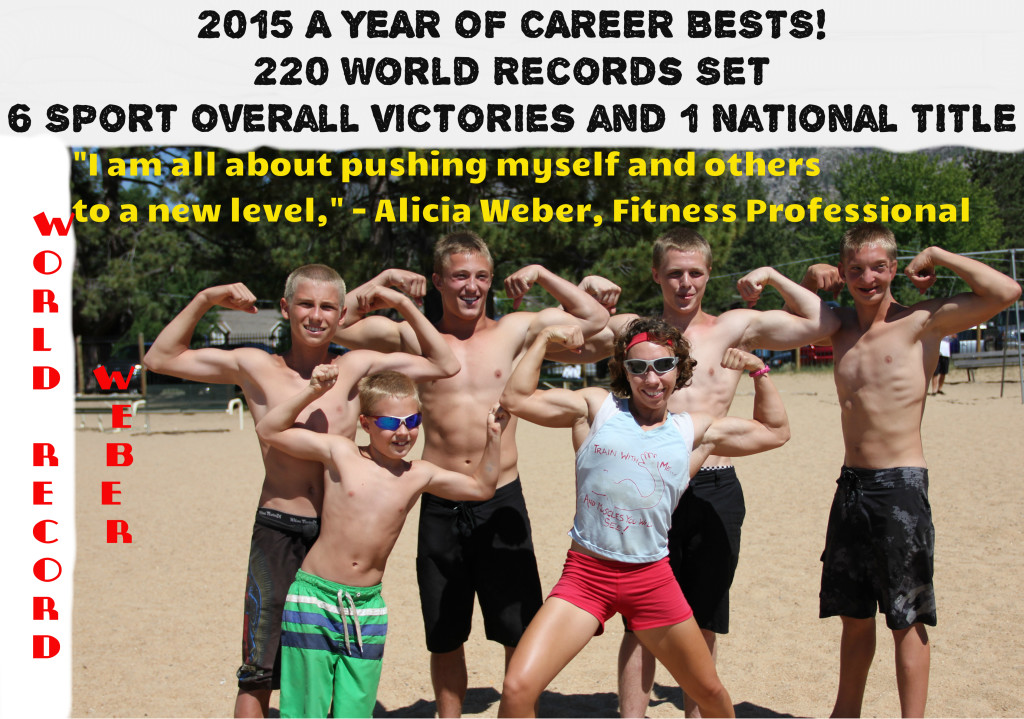 Professionally, my career highlight came when I worked with Olympic and World Champion sprinters on their quest to make the 2015 World Championships, Pan Am Games, and World Relays Track and Field Teams. The athletes I worked with on P360 Pro Track Team earned many medals at these championships. I was the team licensed massage therapist and stretching coach.
As a world record holder, I set the most strength and endurance world records ever in one year – 220!! My previous best was 205 records in 2012. I am the world's most prolific physical fitness world record holder. I realized in December that I had the chance to exceed 205 records and I aimed for 210.
I opened the new category – 30 Minute consecutive Spiderman Pushups at Recordsetter where I completed 511 reps on December 29.
On Christmas, I broke two challenging one arm pushup records (one of which took 5 attempts before re-setting it).
On the last day of the year, I attempted to reclaim my 3 minute arms held out deep squat record (which an ultra athlete Frenchman currently holds), but I fell short. However, I kept going to open some new categories. At the strike of midnight, I was overjoyed when I saw the realization that I exceeded my goal and set 220 records in one year!!
As an athlete, I finally won my first SUP race of my career in my 7th race! I took over 20 minutes off my 3 mile time and finished in 35 minutes in the intracoastal waterways of Englewood, Florida. I won my 3rd Beach Running Championship title in May and I became the only male or female to win the championship three times. I competed in three sports in 2015 (beach running (off terrain running), SUP racing, and fitness challenge events).
An exciting surprise opportunity came along in 2015, which also makes a career highlight for me. I went on my first show on National TV where I was a prop and I competed in a physical fitness obstacle course which involved a lot of rope climbing. I competed and used arms only climbing for the entire competition and it was discussed in the show.
Welcoming 2016, I look forward to the kids, adults, and seniors joining my archery fitness league, athletic camps, and clinics. I look forward to working with my new students in learning to stand up paddle board. I am looking forward to covering a lot of unique stories on this website in 2016 and offering innovative advertising and marketing services to those interested.
Happy New Year and Committed to Your Success,
Alicia Weber