By: Weber Way to Wellness Reporter
Alicia Weber almost missed the Sup N' Go paddle board race held in Melbourne Sept 7. She had faulty directions, but made it to the race site just in time before the start buzzer went off! She rented a 30 inch wide wing Bic board and did not expect to medal.
"I am just working on improving. This was my first SUP race of the season and I knew it was really competitive," mentioned Weber.
She did take a few a wrong turns, which cost her about 4 minutes of extra time. It was a flat water race, but with a lot of turns and different directions.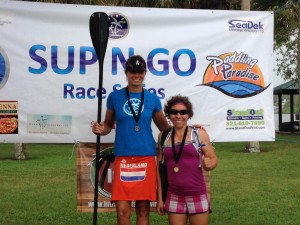 Weber finished the 4 miles in 1:02:27.6 and earned a podium finish. "They called my name to go on the podium to get my medal and I was stunned. I did not think I heard right. I was so happy to see that I got a podium finish. It was my first podium finish at a major race, since beginning paddle board in 2009."
Since this was a Series event, Alicia earned 8pts, which put her fifth overall in the Final Series Standings. Kristin Apotsos won the event and Series with 30pts.
Apotsos is the # 1 SUP paddle board racer. She wins overall out of men and women in many races. She won this race in 46:45.9
"I was really ecstatic to race this top competition," exclaimed Weber.
Weber was selected to be in a video to promote Bic paddle boards for 2015. She may end up in some Bic promotional materials with other racers showing off the new 2015 SUP race boards.
END OF REPORT