By: Weber Way to Wellness Reporter
Attention Running and Fitness Enthusiasts:
When it comes to running shoes, one size won't fit all. It takes a shoe store with a wide selection and experts to decide which shoe is the best fit. When the right shoe is found, it's like a diamond in the rough and a keeper.
Now, it's about producing results to go with the winning running shoe. They last 400-500 miles before needing replaced. Effective training can extend the life of a running shoe and put the right spring in one's stride to go for the long-haul in athletics.
Alicia Weber would know as she has worked under Olympic coaches as well as self-coached herself for 23 years where she has garnered world titles, national titles, All Americans, and course records in track, cross country, road and off-terrain running. Additionally, she has a health science background with degrees and specializations. She teaches her students to get in tune with their own body and get out their best performance.
Alicia has put her unique running formula together to produce one week running camps called, "Become the Best You Can Be" geared for ages 12-18. She was given the special opportunity to host these beneficial Camps at CrossTrain Clermont this summer.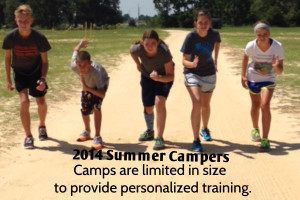 Last year, all campers improved running efficiency by 5-11% in just one week. Campers were tested on day 1 and re-tested on the last day to rate the improvement. Although, most runners take the camp, team sport athletes also take the camp to improve. Let's see what the athletes are saying about the camp:
"I'm ready for cross country. My favorite part of the camp was learning how to run and the proper arm swing. I dropped 3 minutes off my 5k from the new training this summer." – Ashley Chase
"I feel confident now that I will have a great sport season. I enjoyed everything. The camp was a lot of fun. There were a lot of technical things to learn and I absorbed it very well." – Emily Woodhouse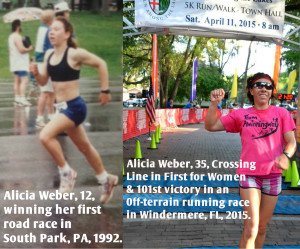 "Alicia is a natural at anything athletic. She can learn anything quickly and can become an expert in minimal effort! Running is her first sport, competing since childhood, and with the time she has spent training, finding the best combo that works, she is the best out there when it comes to training for speed, endurance, and strength." – Adam Gardner
Injuries and improper training techniques cause the end to sport careers. It's rare to find an athlete to be a top contender as a youth and continue into the 20's, 30's, and beyond. It's easier to learn the correct formula for running success now by Alicia Weber, than to get hampered with an injury and call it quits. Learn a champion's techniques and swiftly steer in the winning direction.
Summer Camps Cost $150/week & go 8am-10am Mon, Tues, Weds, & Friday.
Session A: June 8-12, Session B: June 22-26, Session C: July 13-17
Contact Alicia for more info at Awinningway@gmail.com
END OF REPORT