By: Weber Way To Wellness Reporter
WINTER GARDEN, FL—Thirteen year old Ashley of Foundation Academy made a lot of positive strides in the 2013-2014 Cross Country/Track Season. She was part of the track team, which made school history with the greatest participation in the Championship meets to date.
Determined and passionate about running, she kept positive even though certain days she would have constant and severe leg pain. She would wear a knee brace most of the time. She sought help from doctors, but her problem was not getting resolved.
She never gave up. Quitting was not an option.
Ashley began a new training program this summer under the tutelage of Alicia Weber and she has dropped three minutes off her 5k road race time. More importantly, she is running pain-free.
Ashley said, "Even doing an 800m in track I was in a lot of pain. My best was 3:12. Now, I am running 3 miles at a time and I am totally pain-free."
Ashley is very excited about the upcoming cross country season at Foundation Academy. She has been training throughout the summer with a number of races under her belt and new confidence.
On July 4, 2014, Ashley, competed in Track Shack's Watermelon 5k where she dropped three minutes and ran the 5k in 29:38.
Ashley exclaimed, "I feel really good. My pain is totally gone."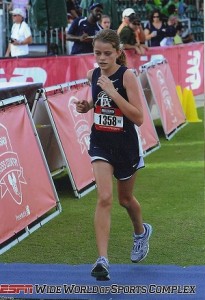 Ashley will be attending the "Become the Best You Can Be" Running Camp with Alicia Weber at Foundation Academy July 28-30. She is overjoyed to know she can really focus on becoming the best she can be.
Ashley has advice for others going through pain who may feel like giving up in their sport.
Ashley said, "Don't give up. If you give up, then you would never know what you could do. You need to keep seeking help to resolve the issue and you will get better and back into the game."
Ashley exemplifies determination, positive attitude, and staying power, which are qualities of true champions!
END OF REPORT