By: Alicia Weber
Photos are copyrighted © Alicia Weber
I have been setting physical fitness world records since 2008. Sports historians have referred to me as the Modern Day Jack LaLanne as a woman. This September 26, 2014, would be Jack LaLanne's 100th birthday if he were alive.
He died in 2011 and will be remembered as "The Godfather of Fitness" after revolutionizing the health and fitness field. Just in time for his 100th birthday, I have now reached setting 500 world records, capturing 100 sport victories, and I completed what LaLanne considered to be his hardest strength feat of his career.
On August 13, I completed 1,000 pushups and 1,000 chin-ups in just over two hours as a tribute to LaLanne, one of my personal heroes. It was his hardest feat because his skin peeled off his hands.
I prepared for two years and I had no issues. In 107 days I set 100 exercise records up to one hour in duration, which is the world record.
LaLanne and I had different upbringings, but our careers run parallel. We were nonconformists who set our own standards. We were going to achieve our goals despite obstacles.
I grew up in Southwestern, PA, in a family of healthcare professionals where exercise and proper eating were instilled regularly, while LaLanne grew up weak and sickly from a junk food diet. His life changed at 15 when he heard a health lecture from pioneer Paul Bragg where he was "born again."
I blossomed in middle school, while LaLanne blossomed in high school. I captured a dozen physical fitness records during middle school. I was off the charts in physical fitness and I competed with the boys for titles. These dozen middle school victories with my 88 overall career athletic wins covering 17 sports is where I get my 100 total victories to date.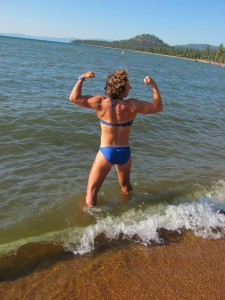 "We have been friends since fifth grade," said Karly Sammel, my classmate and long-time friend. "My first wow moment of Alicia was when I saw her do the flexed bar hang for a couple minutes in gym class. No one could do that. Then, people were making excuses so they would not need to compete against her."
We had to go to stations and complete exercises in gym class. The boys would not let me on the pull-up bar so I pushed one off and did 35 consecutive pull-ups.
"I heard guys saying over and over 'Oh my God'. The gym teachers' eyes were popping out of their heads. The boy's gym teacher grabbed her muscle and became more shocked," continued Sammel.
It was like a dream. Nearly 100 students and faculty gathered to watch me compete against the boys in different events.
"Alicia surprised everybody. We watched her showdown the boys in a 600 yard dash. I just remember her blowing everybody away at everything," recalled Sammel.
Everybody was talking about my athletics and my public speaking too. LaLanne developed into a motivational force and was a top public speaker and personality.
"Alicia demonstrated skills and competencies in writing and public speaking well beyond her chronological age. She presented an 8th grade career speech on marine biology that has been the most original, well-organized, and informative presentation I have encountered," mentioned 8th grade English teacher, Karen Bucy.
By high school, LaLanne became a star football player and wrestler. He hid his bagged lunch of veggies and nuts, so no one would make fun of him.
I self-coached myself in track, triathlon, and cross country to a total of eight medals at National Championships.
"We were on swim team together our senior year. We had a losing streak and had a meeting to figure out what to do," recalled Sammel. "Alicia just jumped up and started giving a motivational talk."
The girl's team began winning and kept winning. Five girls took top places at the State Championships.
"I think people needed her to inspire them to do their best," expressed Sammel.
LaLanne went to college in San Francisco and earned a Chiropractic degree. He opened the nation's first health and fitness club in Oakland, CA, in 1936, where he put fitness on the map.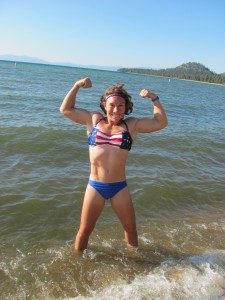 I went to Duquesne University, then transferred to Florida. I earned a degree in Telecommunication, then pursued Biology, a doctorate in physical therapy, and became a licensed massage therapist. I held the first ever world record physical fitness day in Clermont on April 28, 2012.
I have guided seven athletes to world records in fitness and archery and all of us combined have set more than 400 records in Clermont giving the area international acclaim.
LaLanne set many "firsts." Most notably, he had the first and longest running exercise show called "The Jack LaLanne Show." He was the first person to perform strength and endurance feats. He was the first trainer to have both genders and all ages working with weights.
"Alicia breaks barriers," mentioned Sammel.
I was the first woman to set and hold many strict form military exercises. Currently, I compete against men for titles at Recordsetter. I am the only woman inducted into the Official Pushup Hall of Fame. In May, all the branches of the US Military sought me out to provide guidance in preparing women to pass their pull-up test.
We inspire fitness in a fun way. LaLanne would sing, dance, and perform tricks with his dog. I perform fitness comedy. I have reached one million views on my 145 YouTube videos with this genre.
"The world needs more of Alicia to inspire them," added Sammel.
END OF REPORT